When allowing more employees to work remotely, the issue of printing checks can be a sticking point.
How can you allow accounting employees to work from home but still ensure that check runs are secure and timely?
This customer put a combination of tools in place in order to make this transition possible:
PrintBoss Workflow (to manage the check approval process)
Orchid Document Management Link (to see supporting documentation)
PrintBoss Check Printing Service (to print and mail checks)
The solution allows the accounting department to generate a check run, then requires an authorized check signer to electronically approve the checks, and finally sends the checks to PrintBoss for automatic printing and mailing.
"It has kept us current with our vendors.  In the absence of having everyone in one place, we are able to send out checks from the luxury of our homes without disruption." – Dorothy Austin, Accounting Manager
The entire solution can be part of a larger workflow as shown: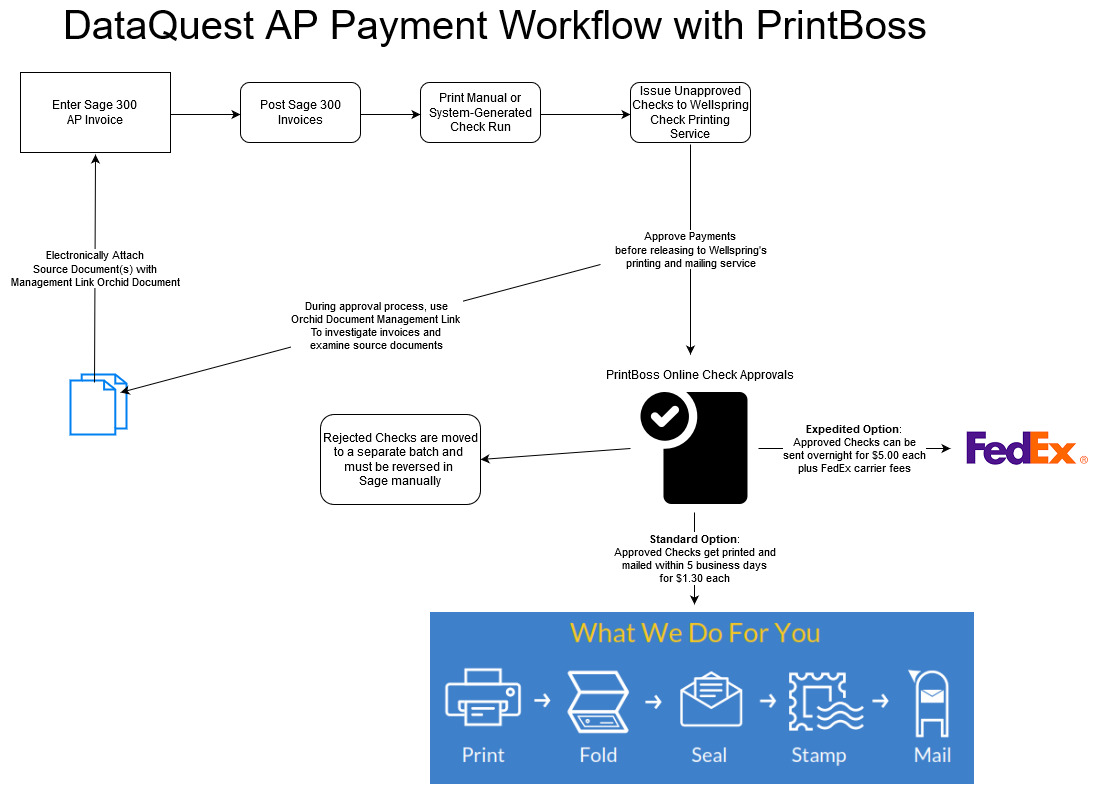 Workflow and Document Management Link
Workflow allows for separation of duties. For example, an accounting staff member reviews checks before they're printed. And that staff person can easily consult supporting documentation with Orchid Document Management link.
Workflow is configurable.  It is possible to include multiple users in a workflow.  For example, you may allow checks under $1,000 to be approved by the controller, while checks over $1,000 require CFO approval.
Printing Checks Remotely
The PrintBoss Check Printing Service is the final step.  The customer processes check payments as usual in Sage 300 ERP. However, instead of trying to get to the office for printing checks, the CFO used PrintBoss to print, fold, seal, stamp, and mail the checks. Accordingly, nothing changes except eliminating the labor and costs of check printing.
Solution Demonstration
PrintBoss Check Printing Implementations
During the COVID-19 global pandemic, DataQuest waived the implementation fee for this solution for the first 15 customers. The solution included PrintBoss check printing service, PrintBoss workflow configuration, and a 1-hr training session.
The included 3-step workflow was:
Accounting Depart processes check run in Sage 300
Authorized check signer approves or declines checks
Workflow returns approved/decline check(s) to Accounting who will release them for printing and mailing.
If this is a solution you would like to see at your business, please get in touch.