About Acumatica
Acumatica ERP delivers adaptable cloud and mobile technology. Its all-inclusive user licensing model enables a complete, real time view of your business. And it provides the full suite of integrated business management applications, including Financials, Distribution, Manufacturing, Project Accounting, and CRM.
DataQuest has been a Top Acumatica Partner since 2015 after performing an exhaustive analysis of competing ERP software products. Because of its strong technology platform, mobile-centric options and record of successful deployment, we were very attracted to the product. Our customers have been pleased as well.

"Acumatica provides a level of visibility and process efficiency to our business that I never thought possible. It is very user-friendly and extremely customizable right "out of the box." I also love how scalable it is; I foresee Acumatica being a long-term solution for us."

– Ned Daryoush, Vice President of  Moby Dick House of Kabob and DataQuest customer

"Acumatica was by far the most robust Cloud ERP offering. It offers more functionality, better prices and more value to users."

– Francisco Callegari CIO of Guardian SealTech, Acumatica customer (testimonial courtesy of Acumatica)
For case studies, read about Moby Dick House of Kabob's experience going live, or check out DataQuest's internal journey of migrating to Acumatica for our own business management. For more about the company, see our Acumatica Company Overview or the publisher's own guide: Navigating ERP Selection and Implementation: A 5-Step Process.
Here's what else you'll admire:
Contemporary:
The product has been developed with latest web technology tools with no legacy software.

Mobile:
Your business runs on any device. No matter where you choose to keep your data, you run the software from a browser.

Deployment Choices:
You can have the same exact product in the Public Cloud (SaaS), Private Cloud, or On Premises. No matter how you choose to deploy, the software runs from a browser and is ready to go.

Open Data for Business Intelligence:
Because the product is Open Data (OData) enabled, you have the advantage of using business intelligence over the internet. For example, you could connect your business data easily with Microsoft Excel and Power BI.

Adaptable:
The product can be deployed quickly and built up with your business. You may choose to add CRM, plug in Power BI visualizations, and add customizations with the flexible architecture. Its built-in platform tool can be used for development, customization, and integration.

Secure:
You decide on the deployment options. You may prefer a private cloud, a public cloud, or an on-premises deployment. Enterprise-grade security features such as server side logic, detailed access controls, and robust authentication are built in.
To Learn More:
Acumatica Distribution Edition
Reporting: Generic Inquiries in Acumatica
Reporting: Build your first Financial Report with ARM Reports
Why I Believe Acumatica Is The Future
Case Study: Acumatica Underpins a Companywide Reorganization
To see the product, just request a demo!
Accolades
The company was named a Visionary in Gartner's Magic Quadrant in 2017 and 2018. Check out the full report here.
It earned PC Magazine's Editor's Choice Award in 2017: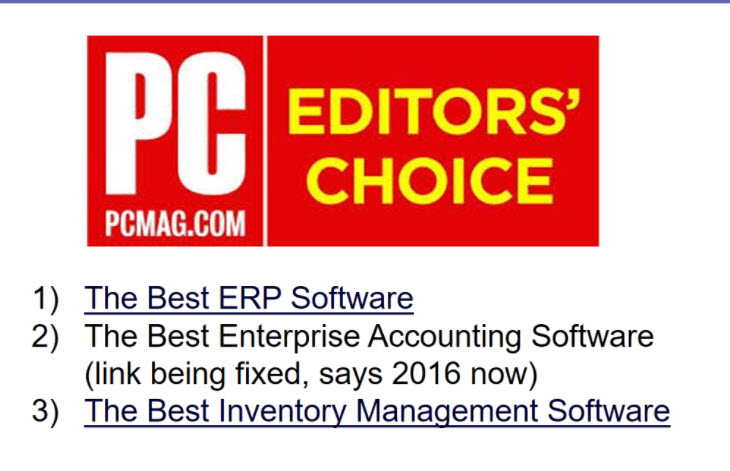 Downloadable Analyst Reports
Nucleas-Research-ERP-Technology-Value-Matrix-2018
The creation-destruction cycle for businesses is speeding up. You can no longer assume that what works for your business today will work tomorrow. Instead, you need to determine where you want your business to go in the Value Matrix 2018: In this Value Matrix, Nucleus evaluates ERP market vendors based on their product usability and functionality and the value that customers realize from the capabilities of the product.  
Gartner: Magic Quadrant for Cloud Core Financial Suites
Nucleus-Report-Acumatica-looks-to-continue-2017-momentum
With a growing ecosystem of resellers and partners, Acumatica is building capabilities that ease integration and accelerate time to value both organically and through its partners.
Check out the latest news on the Acumatica blog. When you're ready to see the product, just request a demo!