Acumatica 2019R1 Release Notes
---
What's New in Acumatica 2019 R1
We all have our hair blowing in the wind as we ride in the souped-up convertible that is Acumatica. Here we share some of the news from Acumatica Summit, where Acumatica 2019R1 was announced.
Acumatica Company Success
91% of Acumatica customers are in the cloud. There are 272 business partners globally, 196 of them in North America. 1200+ new customers joined Acumatica in 2019 – and there are more than 5,000 customers now.
Throughout the Summit, there has been a clear emphasis on elevating and celebrating customer success stories. Acumatica customers Nothing Bundt Cakes, Miir mugs, and Fabuwood were all on stage during the keynotes, telling their story and sharing how Acumatica helped them improve their internal processes. It is clear that customer success is a key part of how Acumatica measures its own value. With so many customers choosing Acumatica it's nice to see them get to tell their stories.
There is also strong outside recognition for the product. Acumatica has won the PC Magazine Editor's Choice award for 3 years running. PC Magazine is considered the Consumer Reports of software so this is a notable honor. Their Net Promoter score is +21, which is enviable – having a score that high tells us that the company is keeping customers satisfied. These are a few external indicators that help explain why Acumatica is the fastest-growing cloud ERP today.
From a technology point of view, Acumatica is heavily investing in its platform and development. There is a vision to continue to invest in a single unified development platform. There is a commitment to the developer community that is encouraging as well. 70% of Acumatica's staff work on research and development. In fact, Acumatica has a higher percentage of resources going into the developer community right now than Microsoft, SAP or Oracle.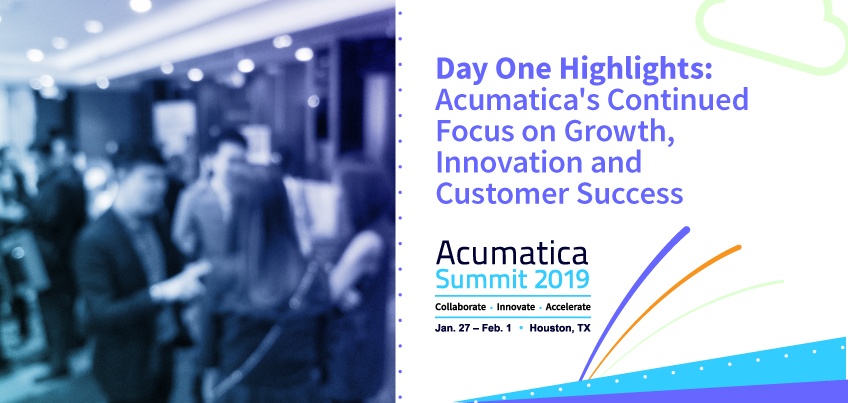 Acumatica 2019R1 Release Notes:
For the Acumatica 2019R1 release, we noted an emphasis on new features and usability. A few examples that stood out to us:
Reporting and Visibility
Using a tool called generic inquiry, we can create redefinable and savable searches without building a custom report. Within a generic inquiry, a new configurable side panel is available that can add more context and information to the currently viewed screen. For example, when viewing the results of a generic inquiry to see customers with overdue balances, the side panel can pop out to display detailed drill-down information related to the customer. The side panel is sensitive to each field shown in the generic inquiry. This gives you the ability to quickly see more information on the invoice, customer, or whatever field you're viewing in the generic inquiry. There's also an expand/collapse button to make it easy to control what you're seeing. And with this release, the product performance has been further enhanced as well, making the experience faster and cleaner.
Navigation
Visually there are also some new helpful on-screen cues in Acumatica 2019R1. With this release, you have the ability to personalize your instance based on color. Now, you can differentiate companies and branches by color, making it intuitive to understand the context in which you are working. This is one of those helpful usability tweaks that will be useful particularly for our customers who use multi-branch or multi-company functionality. It's also nice for assigning a specific color to a test or demo instance.
Additionally, there is now the ability to create conditional highlighting within a result set of a generic inquiry. So if you want to display any negative values in red text, or any opportunities with a status of "won" highlighted in green, that is now possible. Additionally, values from the generic inquiry can be totaled and displayed on the main generic inquiry screen the same way you'd see a total displayed in Excel.
System Administration/ Geeky Things
For system administrators and technical team members, there were also a few goodies. The updated System Monitor shows real-time resource usage. And Acumatica now offers multiple options for multi-factor security authentication- a SMS code sent to your mobile device; a unique code sent to your email address; or even a thumbprint authentication to your phone are all valid options for multi-factor authentication.
Acumatica is also investing in artificial intelligence and machine learning. This manifests in 2019 R1 within the help files. If you spend more time on a particular help article after executing a search, the product "learns" that that help article was a good match for the keyword you chose. Additionally, if you execute a search and quickly click away from the article presented, the "lesson" for machine learning is to give that article less credence for the keywords in future searches. There is also investment in natural language search that is improving with each release.
Click here for the full release notes documentation.
In 2019 and beyond, we expect to see a few other goodies:
Improved intercompany financials, improved financial reporting, improved bank feeds integration.
For Inventory and order management: we'll see embedded warehouse management system (WMS), sales negotiation and upsell tools, advanced kitting, work orders, and predefined roles and import scenarios.
For the Project module: we'll see budget control functions, advanced change management, crew timecard entry, credit card in expense claims, and user experience improvements.
For CRM: we'll see new workflows, new activity streams, a customer 360 view, marketing automation integrations, user experience improvements, and predefined roles and import scenarios.
For Field Service: we'll see improved capacity to handle discounts, travel time, multi-day appointments, calendar board enhancements, and user experience improvements.
For the xRP platform itself: the vision includes maintaining ERP technology leadership by investing in and leveraging the single unified development platform and delivering the best user experience and productivity. We expect to see continued investment in artificial intelligence, machine learning and natural language search. The investment in performance will also help all customers.
If you were there, what stood out to you?