Acumatica Summit 2020 Keynotes
---
The Acumatica Summit 2020 Keynotes got off to a thumping start. The announcements and product updates have demonstrated the payoff of Acumatica's emphasis on research & development. Even with the acquisition by EQT Partners in 2019, it's clear that Acumatica has maintained a stable, consistent focus on making a great product.
Here are a few examples of that.
Acumatica Summit 2020 Keynotes : By the Numbers
2,500 attendees are at Acumatica Summit 2020- that's 1,000 more than last year.
More than 50% of this year's attendees are first-timers
6,500 customers globally and growing at an astonishing rate
350 + Business Partners (like DataQuest)
200 + Independent Software Vendors providing extensions and add-ons
Customer highlights
Acumatica continually highlights "the customer voice." We love seeing customers on stage. And we know that prospects and customers find the words of other customers really meaningful.  They are the ones who have walked in your shoes- from ERP selection, to scoping, to implementation and education. Acumatica Summit 2020 Keynotes highlighted  several customer stories:
2019 Customer of the Year:  Power Storage Solutions

This customer does DC power backups. They're a 2018 startup that needed to integrate disparate systems for ERP, CRM, Expense Management, and Project Management. Acumatica was able to integrate all the independent elements. They pulled the data in with the Acumatica data import scenarios and made dashboards that reflected the newly integrated data. After all this, the customer saw a 6% increase in the bottom line.

2019 Impact Customer of the Year: Food Maven

The Impact Customer is working to make the world a better place. Food Maven creates a marketplace for the 40% of the food in America that is not eaten and is at risk for going to waste. Their mission is to end food waste by optimizing the supply chain. Their story is so relatable- they intercept food that is imperfect, oversupplied, or local and faces distribution challenges, and brokers that food to hotels, universities and larger customers. They use Acumatica to help manage their fast-paced growth.
It was inspiring to see these customers on stage. Acumatica also makes beautiful videos that tell the customer story. Imagine how proud you would be to see your own work highlighted in this way.
Acumatica Summit 2020 Keynotes : Product Development
No tech keynote would be complete without some product demos! And as Acumatica CEO Jon Roskill said, "I'm an old techie; I love to talk about products." You know you've got good leadership in a tech company when they self identify that way.
Here's a recap of the 2019 Highlights: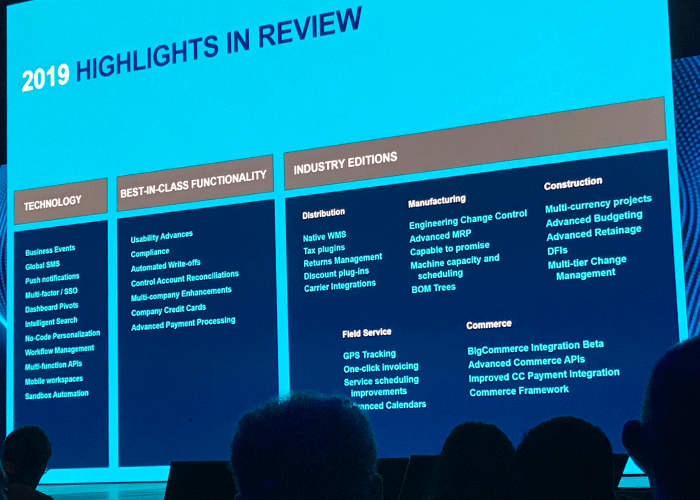 Compared to its peers, Acumatica spends disproportionately on research & development. This is, of course, great, because it means that the product updates that ship are really meaningful. And sites like feedback.acumatica.com help inform that research and development. This is one of the reasons why we say that Acumatica is the future.
And here are a few highlights from the Acumatica Summit 2020 Keynotes:
Usability
Dashboard performance is being enhanced in Acumatica 2020R1. All the tiles refresh at once when you refresh your dashboard. And now you can configure the rate at which each widget should refresh. We recommend choosing the minimum refresh rate for your business. It's a drag on the product to refresh heavy-duty widgets "every 5 minutes." If you can handle once a day or every few hours, that will also help you. Each widget will also show the last time it was refreshed.
There's a new ability to combine the mobile and desktop experience for file uploads. The product demo showed a very relatable demonstration of doing an expense report. During the expense entry, in the 'add file' dialog, there is now an option to 'upload from mobile device.' This triggers a push notification to your mobile device, making it easy to upload an image of your receipts from mobile. Now you can forget emailing images to yourself for expense reports.
And there's "the best part of 2020R1 release" (according to the developers): the new button! You can spawn a new record right from the workspace by clicking the "new" button- here's a slide showing the ability to create a new sales order:
Introducing Acumatica Payroll
The Acumatica Payroll being introduced in 2020R1 will be:
Fully integrated with Acumatica
Able to handle union requirements
Able to handle intricacies of Federal and State forms
Manufacturing Edition
Acumatica has acquired the heavy-hitting manufacturing solution written by Jaas Systems. This is great news for Acumatica customers and will make the  manufacturing experience very powerful. In addition to that, the manufacturing edition will also include:
a new eWorkplace Apps platform
new extensions to the manufacturing edition, including a quality management module and a process manufacturing module
Smartsheet Integration
Ooh, this is another goodie. Smartsheet already has more than 83,000 customers (including DataQuest) who use the product to enable project collaboration among disparate teams. This will now be integrated to Acumatica.
Integration will be bi-directional. So it will allow us all to better manage work, plan and schedule what needs to happen. Smartsheet is now in the Acumatica marketplace.
Field Service
For field service employees, there are new enhancements to time tracking. Picture yourself as a field service rep and see how these features would help:

New button "Start Travel" to click as you begin your journey (New in 2020R1)
Mobile signature capture when the customer's work is complete
Take a pre-payment on mobile
 New button to "Start Appointment" during the visit (New in 2020R1)
Workflow Automation Engine
According to Acumatica Founder and CTO Mike Chtchelkonogov, "speed is the ultimate design." The development team has been working hard on performance speed as a foundation for all the enhancements. If you have a great workflow automation engine but it's sluggish, it's not very meaningful. That was a great lead-in to some of the automation enhancements in Acumatica 2020R1.
Workflow Automation Engine
The new workflow automation engine is going to really help our CRM customers. The workflow engine, however, can be used throughout the system- it's not limited to CRM. The workflow tools use colors and drag/drop functionality to help you create workflow steps visually. This should make building workflow state transitions easier. And if you're a visual learner, it will make MUCH more sense to build workflows when you can see the entire flow tree.
Until we have "one big green button that says, 'do it all for me' " (hat tip to CTO Mike Chtchelkonogov), we'll have to live with these useful automations.
Here's a quick snippet – this is a 30-second recording showing how to add a new workflow stage. This was a demo from the Acumatica Summit 2020 Keynotes that made the workflow engine look easy:
Acumatica Workflow Build Snippet
Document Handling
Acumatica also announced an enhanced partnership with Adobe. In 2020R1, Acumatica offers the ability to add editing to a PDF stored in Acumatica. There was a nice, clean demo of using Adobe tools to mark up, highlight and add comments to a PDF in Acumatica. When you do this, the document is saved as a new version. And in future releases, Acumatica expects to provide the ability to actually edit the document text.
This comes at a price, but expect to see a 30-day free trial promotion.
Path Forward
Acumatica sees itself as a leader in digital transformation. For example, the path forward includes:
Artificial Intelligence (AI) machine learning engines

used for audit/anomaly detection, for CRM opportunity optimization, and more

Ability to continue to use natural language queries
Specialization in industry editions (distribution, manufacturing, commerce)
Data visualization
Acumatica can look across the field of current tech and select the ones that work best for its needs. Whether it's leveraging technology from Google for image recognition or Microsoft's talent with text and forms, the freedom and flexibility is inherent to Acumatica's mission.
Acumatica Summit 2020 Keynotes were a real treat. We're proud of their success. Our customers in attendance were smiling and clapping for some of these great features!