Behind the Scenes at the DQ Retreat
---
DataQuest team members went on a retreat to Key West recently to spend time focusing on our vision for the business. We wanted to pull back the curtain a bit and share the experience with you. For this retreat, we set aside three days to deeply discuss the next 5-10 years of DataQuest and define our expectations and goals.
Why Now?
There are 2 major changes that are happening in our world: our customers are embracing cloud technology, and our culture is getting accustomed to paying for services on a subscription basis. We wanted to take time and define how our business could offer a vital service in this new landscape.
Cloud
Our industry, and likely yours, is in the midst of a dramatic change with the advent of cloud-centric technology. There are incredibly compelling reasons for the move to cloud, and we have noticed an uptick in interest from our customers in exploring the benefits. It is our responsibility as both business consultants and technologists to help customers with the decision around whether, or when, to leverage cloud solutions.
For example, we are delighted with the success our customers have had with Acumatica (the cloud ERP solution that we endorse). Much of our work on the retreat was focused on how to continually add value to our Acumatica customer experience, and how to share their stories and successes with others who are considering cloud solutions.
Subscription Services
Another change that has happened culturally is an expectation of paying for services via subscription. Streaming music, movies, insurance, cloud file storage, and password services have all moved us in this direction. There is an emerging preference to pay this way that we are committed to entertaining.
Another big segment of our retreat discussion was how to increasingly offer our services via subscription. We've noticed that subscription plans support our customers in pursuing more proactive work that helps grow their businesses. With the subscription service, we focus on the regular ways that we can add value- with built-in regular visits, checkups, and goodies that contribute to customer satisfaction. Subscriptions also allow our customers to have a predictable, stable budget for ongoing DataQuest consulting expenses, training, and support. And based on the plan type a customer chooses, we define clear expectations on response time, included goodies, and support materials. We have several subscriptions in place now and are pleased with how they foster a proactive approach. Expect to see more of these on offer soon.
Positioning For Success
We spent time on this retreat discussing the direction we'd like to go as a company. We have been building the architecture for growth for several years now. There have been some major decisions we've made internally that have underlined our commitment to being a modern, thoughtful consulting firm. And while it has not always been easy, we are pleased with our direction.
We spent time evaluating our internal architecture. One of our strengths has been our commitment to building out a web-based documentation and collaboration space using the Confluence app. This has served as our base for documenting and showcasing customer work to help our customers see and understand process dependencies, as well as a site for internal knowledge transfer.  Our customers use it for referencing work, creating user education tools, onboarding, and process documentation. This space is also where we log our internal guidelines and conventions, allowing us to deliver a consistent experience to our customers. It acts as a detailed, living knowledge base about our customer solutions and we consider it a significant point of distinction compared with our competitors.
During our retreat we discussed ways that our documentation space is emblematic of our company culture- disciplined, transparent, with a commitment to quality. So with our space as a starting point, we asked ourselves: what other opportunities do we have to strengthen our internal skills, find opportunities to share resources and solutions, and create an attractive place for talented people to grow?
Breakouts
During the retreat, each person had time to themselves to develop SMART goals around each element of our vision. SMART goals are:
Specific
Measurable
Attainable
Realistic
Time-Based
Here is some fly-on-the-wall documentation of how each person went about writing their SMART goals: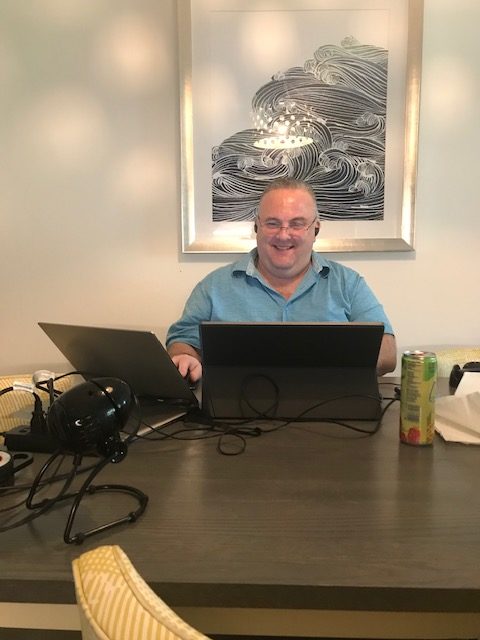 When Mark Binkley works, there are swirls of ideas that naturally formulate above his mind. Could it be the commitment to over-preparing with a laptop, an external monitor, external keyboard, special mobile earbuds,  and multiple fans to help cool down the intense brain activity? For more on Mark's rig, see our post about his no-nonsense work setup.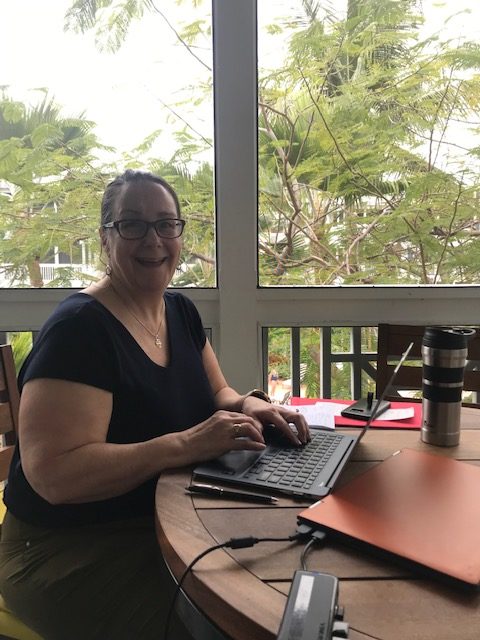 Debbie Mazzullo worked on her goals with the naturally buoyant assistance of the Key West ocean breeze to keep the ideas flowing. Debbie's probing analysis helped us push deeper into some critical questions, uncover and overturn old assumptions, and create strong decisions together.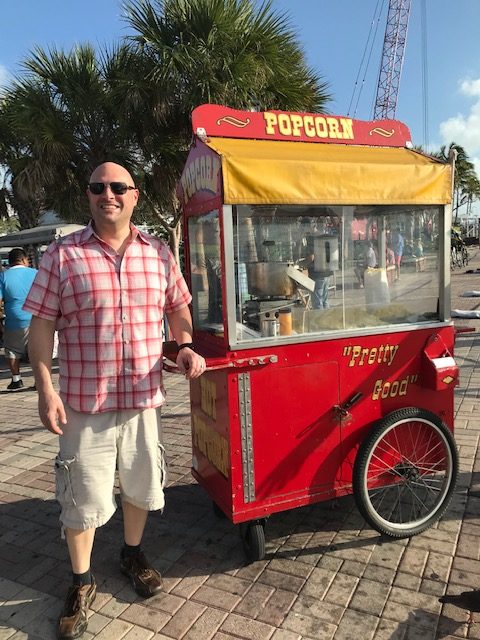 David Gelula kept us on point and happy, getting commitments from the group and always keeping an eye on quality. As an example, not even a simple popcorn stand was safe – "pretty good" is neither pretty nor good. David pushes us to do it right the first time.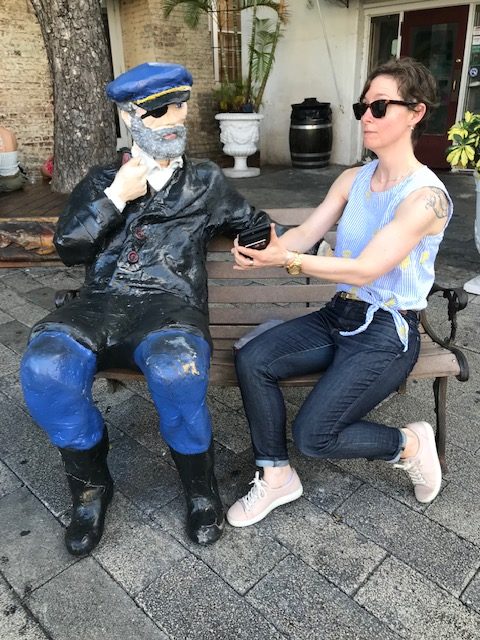 Arline Welty, ever the software demonstrator, found ways to connect with, and educate, the people of Key West, even with those who may never fully appreciate the coolness of checking Acumatica inventory levels on a mobile device.
One of the best parts about the retreat experience was our ability to work together as a team, leveraging each person's unique strengths and perspective to create a concrete blueprint for the future. To help our customers succeed as our world changes, we must continually hold ourselves to a high standard, maintain a growth mindset, and create the conditions for our customers to achieve all that they envision with their businesses.