Chris Heeter: Bringing Your Wild Side to Work
---
One of the things we like to share on the blog are the interesting lessons that always come from our conferences. One of the more surprising keynotes at the Information Technology Alliance (ITA) Fall collaborative this year was from dogsled musher and wilderness guide Chris Heeter. Heeter talks about bringing your whole self to work, the importance of communication, and the value of being open and vulnerable as a leader. She couches this all within the lively context of a leading a dogsled team. She calls this "bringing out your wild side".  Heeter is not your everyday keynote speaker! We liked what she had to say and wanted to share some of her messages here.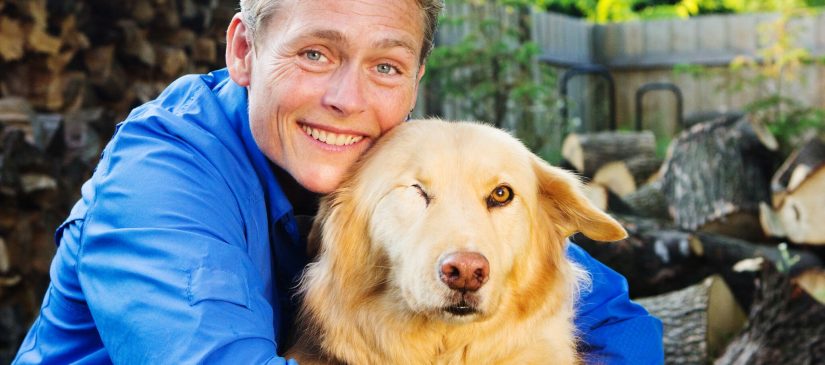 Speaker Chris Heeter with the lovely Tuu Weh. Photo credit: Brooke Ross
Heeter challenges us to bring our whole, true selves to work: specifically, "to bring the gift of who you are to all you do." When we take time to bring our whole selves to work, we allow others to know us, and we in turn get to know them. This approach breaks us out of the cycle of mentally working on the endless hamster wheel. It means you bring your "wild side".
Bring the gift of who you are to all you do – Chris Heeter
As evidence, Heeter referenced a study that we've also presented at DataQuest conferences and written about on our blog: the results of Google's Project Aristotle. In the study, Google was working to understand the elements of its highest performing teams. There seemed to be a dynamic at play in some teams that helped them gel and support each other. It had nothing to do with whether people spent time together after work, had more meetings, or if they had pre-existing personal relationships. Instead, the common element of the highest performing teams was that they had a high degree of compassionate cooperation. The highest performing team members knew, on any given day, how the other team members were doing. They drew each other out and supported each other. When we spend a little bit of time understanding both what team members are working on, and how they are coping, we're building internal strength. This also requires that we operate with some degree of openness and vulnerability, allowing others to help us and understand us.
In order to be present and real, we have to occasionally step off the mental hamster wheel and take a moment to reflect. This was one of Heeter's key takeaways- the importance of spending a little time recharging and getting in touch with your true self. She calls this getting into the "doghouse". No, it's not the doghouse that means you're in trouble. Heeter told a story about one of her sled dogs who, after being harnessed, would run to her doghouse for a few moments to be alone. Then she would emerge, ready to lead the pack. The mushers had no idea what was going on in the doghouse, but they realized it was important preparation!
Cathy Engelbert, the CEO of Deloitte, does this. Throughout her packed day, she schedules in "S.M.O.RE.S": small moments of reflection. If you think you're busier than the CEO of Deloitte, you're probably wrong. Just knowing that a leader of that magnitude is taking time to reflect and process is a message for the rest of us.
One of Heeter's last messages was about the value of communicating and encouraging your team. She talked about being on a wilderness canoe trip and realizing the importance of reassurance. The paddlers were exploring the boundary waters, it was late in the day, and the group was trying to find a campsite. They passed site after site that was taken and the group was getting a bit anxious and hungry. Heeter realized that she just needed to communicate this: "We will find a site. It may not be right away, but we will find a site. Soon we will be making a meal around a fire, and you'll be warm and dry in your tent." Just having the presence of mind as a leader to recognize the unspoken feelings of your group and address them can add a steadiness that is helpful in times of uncertainty.
As a leader, you must trust that when things go wrong, you will right yourself. You will make mistakes. Some of them will be small, and others will be doozies that sear you and change you forever. But if you can be open and vulnerable in the process, tapping into your wild side, recognizing the need to trust yourself, you will be resilient and strong. Be long on learning and keep communicating with your team. This is what it takes to bring the gift of who you are to all that you do.
To learn more about bringing Chris to speak at your conference or organization, see her talks and website.