Configuring Acumatica Without a Developer
---
Configuring Acumatica Without a Developer
With a test instance and the help documentation, there's a lot you can do. Here you can learn about several configurations to implement in your system.
Configure which columns are visible in a list
First, open a results grid. For example, click on your Invoices list (SO3030PL). Then, click the column configurator in the left-hand corner (see arrow). That opens the Column Configuration menu, which you may use to to add and remove fields from the Invoices list. This configuration affects only your user.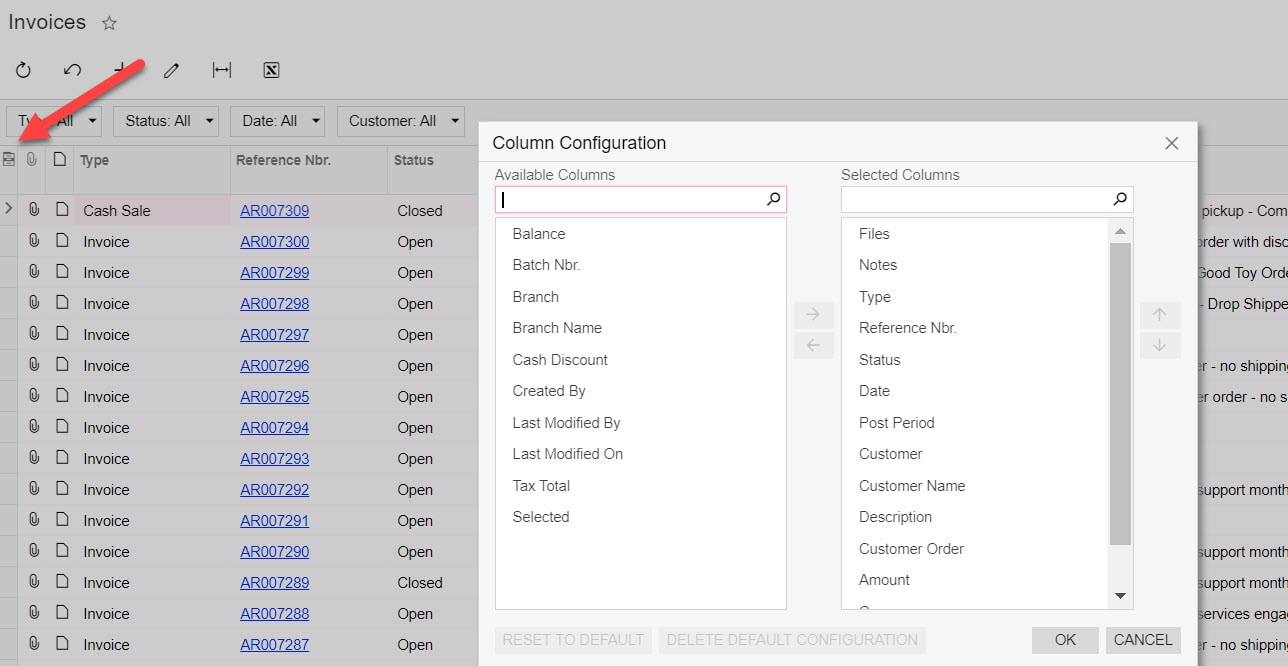 Additionally, starting with 2020R1, you also have the ability to suppress any column from being 'tabbed' into. This makes tabbing through the fields for data entry much quicker.
Create and Save a Filter
This is a good one. Continuing to use our Invoices list as an example (SO3030PL), follow these steps (enumerated in the image below) to create a filter to reuse later:
1. Click the funnel to create a filter.
2. Write the filter conditions.
3. Save the filter and it will be available as a tab for future reference.
Here's an example of creating a filter to show all invoices where the amount is greater than or equal to $30,000. This is then saved as a tab. It's visible each time you land on the Invoices screen.

Configure screens
We also have the ability to simplify screens based on user role. You can do this with Access Rights. Do this to tailor the screens to user job functions and remove any fields that are unnecessary or confusing.
Manage Your Workspace Icons
You also have the ability to show/hide workspace menu items based on what is important to you. Additionally, you can reorganize and even rename the work spaces if that makes life easier for your team.
To do this, click the ellipsis at the bottom of the workspace, choose "Edit Menu", and get started with dragging and dropping.

Customization Projects
Acumatica's guidance is to house your configurations within the context of a customization project. Here are a few examples:
To configure the image on the home screen:
Here is the file location of the home screen images:

C:\Program Files (x86)\Acumatica ERP\<AcumaticaInstanceName>\Icons\login_bg<#>.jpg
You may change the .jpg images to ones that you prefer.
This works even for SaaS customers, assuming you couch it within a Configuration project.
To write automations:
Once you grasp the combination of business events and import scenarios, you will understand a large piece of how to incorporate automations and escalations. Simply put:
Generic Inquiries/Business Events + Import Scenarios = Automations
Here's an image that captures how Acumatica's scripts, via import scenarios, can act on multiple sources of data: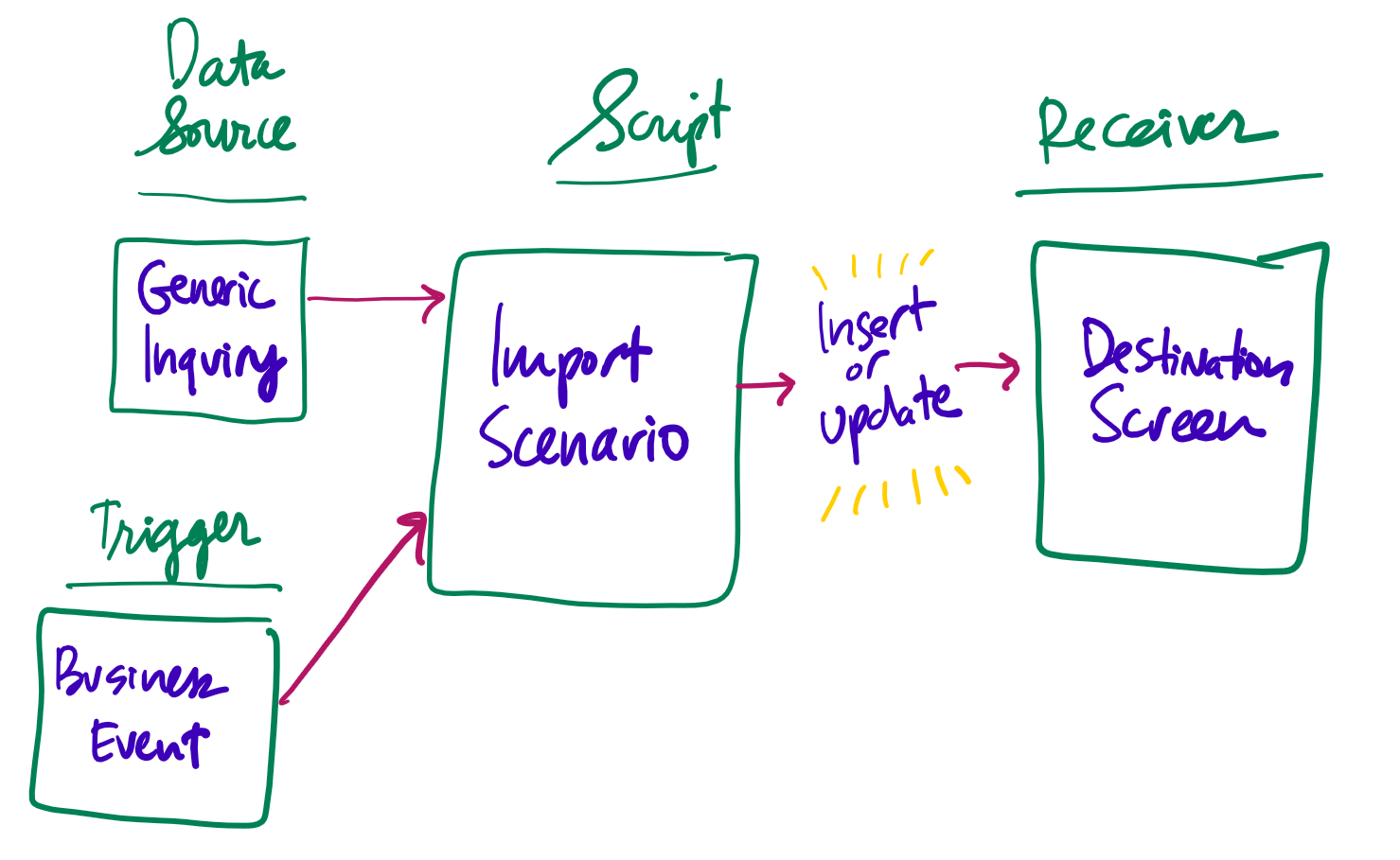 Configuring Acumatica Workflow
This is one of our top takeaways from Acumatica 2020R1: the workflow automation engine is getting much stronger. You can easily add a new workflow action, control workflow state based on workflow actions, and control field states. You will also have more flexibility to manage workflow states and transition rules.
We'll also see that there's an easier way to manage field properties:
–    Is the field enabled?
–    Visible?
–    Required?
There are also going to be more powerful actions associated with workflow- from navigation actions, to actions that update fields, and actions that even run reports.
To add a workflow, navigate to the screen from "Customization Projects." From here, you have the ability to add a workflow to that screen, select the default workflow, and trigger pop-up screens. For more on this, see Release Notes 2020 R1. We also have a 30-second recording of Acumatica CTO Mike Chtchelkonogov demonstrating this live at Acumatica Summit 2020.
We expect our customers to apply these workflows to customer service cases, sales opportunities, and even invoice or purchase order processing.
Interested in Customizing Acumatica without a developer?
Look out for the Acumatica course, S140, Customization without Coding, and review the 2020R1 Release Notes for details on all the content mentioned here!