Easily Populating Acumatica CRM – Learn how!
---
The folks at Acumatica have made populating Acumatica CRM really easy. Here we'll talk about some of the ways we can make sure your Acumatica CRM system reflects the people, companies, and prospects that are linked to your organization.
Philosophy
One of the reasons our customers like using Acumatica CRM is that it's already integrated with all the other core elements of the business. Because it's not a separate module, the CRM data resides in the same place as the ERP data. Therefore, it follows that there are natural links between them.
When you first go live with Acumatica, we'll help you do an initial data import to populate the system. This post is about maintaining and growing your database once the "core" is established.
Here's a great representation of that that we lifted from some training material (courtesy of Acumatica):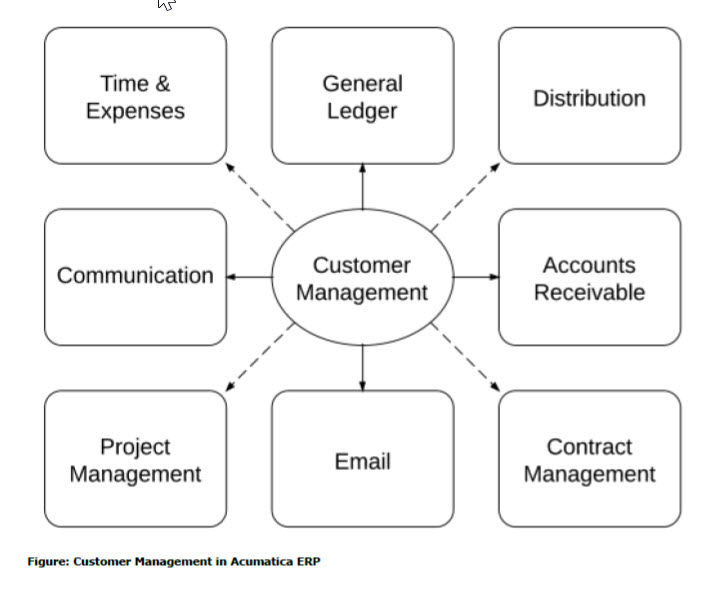 Populating Acumatica CRM On the Fly
Of course, one way you'll add people and companies to Acumatica is on the fly. You'll realize that a contact isn't in your system yet and you'll want to get them there. You can always open Acumatica and just create a new Business Account with associated contact: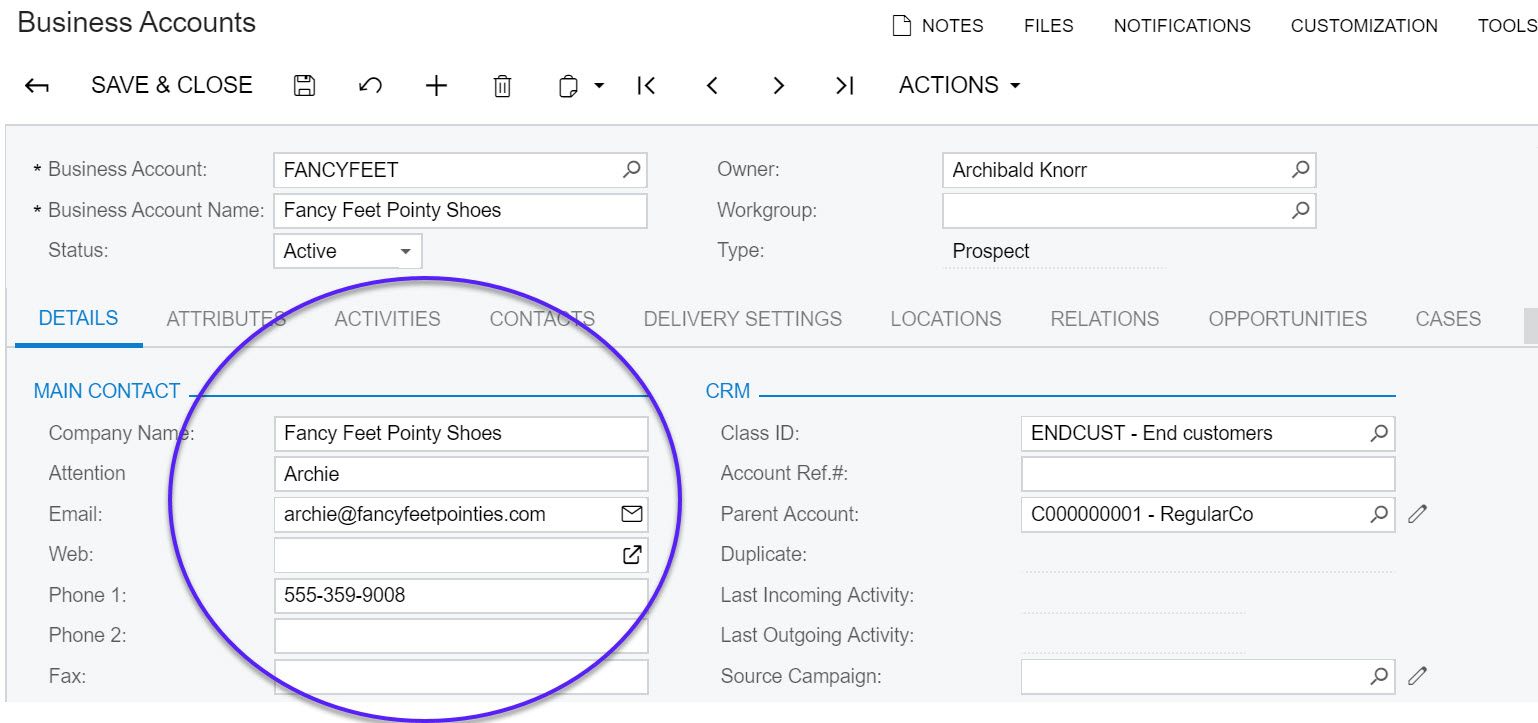 …or you could also add them via the Acumatica Outlook Plug-in when you receive an email from them. Just click "create contact" and you can add that person on the fly. One gripe about this is that to add the person's phone number is an additional customization (at least in build 2019R2).

(For more on installing the Acumatica Outlook Plug-in, check our case study on sending emails with Acumatica)
Populating Acumatica CRM Auto-magically
If you're the type of company that uses marketing automation, you're likely receiving leads in a specific format on a regular basis. Instead of having to re-configure the file that you get from your marketing automation tool, you can build a specific data provider in Acumatica to respond to the way THAT file is configured. Then, you can create an "import scenario" that tells the software how to cope with each row in the file. The import scenario tells the system where to put the data.  Additionally, if you want to assign all the new marketing contacts from Cook County, Illinois to a specific team member, you can have the software assignment rules handle that.
Say you receive a flat file from your marketing automation tool every day with new contacts. You can set up a regular schedule to have Acumatica look at a network folder for the new file every day. Then, when there is a new file, it can be auto-magically imported to Acumatica based on the rules you configured for the import scenarios.
Then, you can even create regular notifications based on that data to let people know they have more leads to be categorized or called.
The reason this is so exciting is that we would typically expect a third-party integration software to do that. But Acumatica has the functionality to automatically import new files baked right in.
Populating Acumatica CRM from your mobile device
Ok, we all knew this HAD to happen because Acumatica is a cloud-first product built on a contemporary platform. (That's one of the reasons the product is so attractive).
Just open the Acumatica app and add a contact on the fly- it's about as easy as adding a new contact to your contact list on your phone.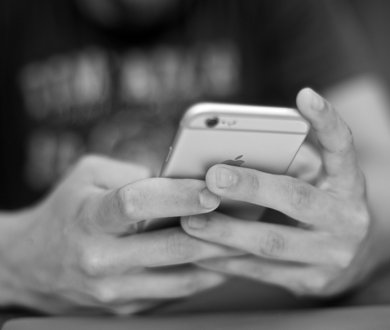 Let us know if we can help you get your Acumatica CRM system up and running!