How to Work From Anywhere
---
This is a guest post from team member Marga Engelhardt. Marga handles bookkeeping at DataQuest when she's not baking cupcakes.

During the COVID-19 crisis, DataQuest Solutions is here to support you.
You and your business may be having a difficult time adjusting to remote work.  One of the recommendations that is most important for all of us to follow is social distancing.  This means that you may be forced to reinvent the way you go about your daily work routine. Here is where we can help you make this conversion.
As software consultants, we have worked with numerous applications that make it possible to work from anywhere. DataQuest employees have done this for YEARS!  We want to share our remote work experiences with you in hopes that it will be helpful.

Work From Anywhere with the Right Communication Tools
Slack – (used by DataQuest) With this, you can organize your conversations via channels that work similarly to hashtags!  Who doesn't love a good hashtag?   At DataQuest, we have a few SERIOUS hashtag channels that are locked for private eyes (#accounting) and some fun channels to replace our watercooler conversations (#wellness-hackers).  We are able to take a chat conversation and create a "thread" to continue the conversation so there is no clutter.  We share images, links and entire files super easily (drag & drop, copy/paste, or browsing the desktop for a file location). Even better,  Slack is integrated with Zoom (among other apps) so we organize and host meetings in a snap! Mind Blown!!
Trello – (previously used by DataQuest, but replaced with Acumatica Tasks) With this program, you can visually organize your to-do lists, projects, and more with a "card" system that can be shared and managed by other team members. This is great because you can create cards with rules and deadlines for things as simple as "clear my inbox" or as complex as "add the pricing breakdown to the sales presentation for Amazon by 5pm on Tuesday" and not miss a single thing!  You can make your cards private, public, or share with particular people.  It can be customized to fit your needs, which can seem daunting, but they have created templates for different usage to help you get started.
Office 365 – (used by DataQuest) Microsoft has cloud based versions of the software you've used since forever. With cloud-based access to all of the Microsoft Office programs (Word, Excel, PowerPoint, OneNote, etc.) you can access your information from any computer with an internet connection, or even your phone!
Teamviewer – giving you remote access to your computer, from anywhere else!!!  You can access your computer from your cell phone, tablet, or another computer/laptop.
Documentation Tools
Confluence – A subscription is available through DataQuest.  You can organize your processes, procedures, files, and more all in one space.  It's very similar to how a website is structured, except it's internal.  So you can have a checklist, calendars, files, application diagrams, whatever you want to make it into.  DataQuest uses Confluence as an all-inclusive library for each of our clients. Each client has their own space, and within that space is the full documentation of all the configuration choices, software applications, automations and business particulars for that client.
Dropbox – Another DataQuest favorite!!!  We use it to store and share cloud content among our team and with customers. It is compatible with Trello, and can sync with your local file folders so you have ONE electronic filing system. This is especially useful for sharing large files, screen recordings, and even application downloads.
Google Suite – Google has you covered!  If you don't use Microsoft Office, Google has great alternatives; google docs, google sheets, google slides, google hangouts, gmail, etc., all of which are compatible with Microsoft Office programs. While DataQuest doesn't use this internally, we have clients who use the Google suite.
Virtual Telephone
Zoom – (used by DataQuest) Its our one-stop-shop that allows for online meetings, video webinars, virtual conference rooms, regular telephone calls, instant messaging, and file sharing.  Its compatible with Slack, and there's an Outlook Add-in for you to schedule meetings with your Outlook Calendar. Using video conference helps build community when you can work from anywhere.
RingCentral – If you need faxing, this is for you. RingCentral allows for calls, meetings, messages, and fancy hold music!!  Their capacity to keep you talking to everyone is fantastic!  To top it off, they offer different packages to fit your budget.  They even offer a 15 day trial before you actually commit!
Cloud based ERP Systems
…of course we've got these covered. It's what we do!
Acumatica – Safe, secure, customizable, cloud based technology that allows you to access your business from any device! Acumatica has an advantage over other ERP systems right now as it's available from your browser.
Sage 300c and Sage CRM – Manage your finances, operations, inventory, and business processes in these robust and reliable applications.
We are happy to use our experience to answer what questions you may have, or point you in the right direction.
We are here for you and hope to continue to support you during this pandemic.
Summary Grid: How To Work From Anywhere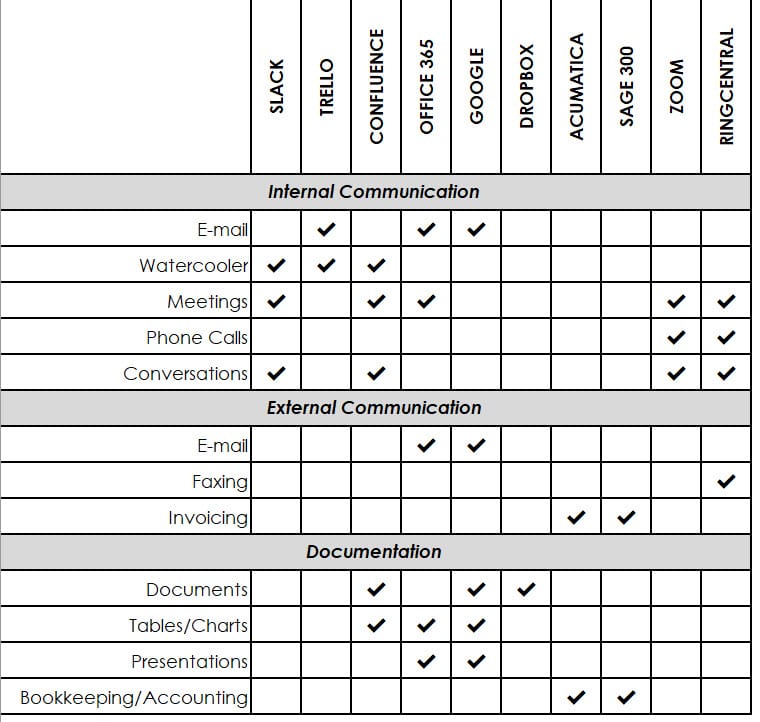 SLACK
TRELLO
CONFLUENCE
OFFICE 365
GOOGLE
DROPBOX
ACUMATICA
SAGE 300
ZOOM
RINGCENTRAL
Internal Communication
E-mail
✔
✔
✔
Watercooler
✔
✔
✔
Meetings
✔
✔
✔
✔
✔
Phone Calls
✔
✔
Conversations
✔
✔
✔
✔
External Communication
E-mail
✔
✔
Faxing
✔
Invoicing
✔
✔
Documentation
Documents
✔
✔
✔
Tables/Charts
✔
✔
✔
Presentations
✔
✔
Bookkeeping/Accounting
✔
✔