Making a Custom Project Invoice Form in Acumatica
---
Here you'll see how to make a  Custom Project Invoice Form in Acumatica. This is applicable for ANY custom form you want to use, including Order Forms, AR Invoices and AP Checks.
Create a copy – and follow a naming convention
A best practice when modifying forms is to add a suffix so that they don't get overwritten during an upgrade. DataQuest's policy is to add DQ to the end of the form name. In this example we modify PM641000.rpx. We modify the form and save it back to the server as PM641000DQ.rpx.
I now need to do two things:
Add the Custom Project Invoice Form to Acumatica's site map.
Tell Acumatica to use form PM6410000DQ instead of PM641000 when running project billing.
Add the custom Project Invoice Form to the site map:
1. In the universal search type "SITE" or go to ScreenId=SM200520
Click the + to add a row for your new report.
You must complete the following fields:

Screen ID – The screen id must be unique. Since the original PM Invoice is PM641000, I used PM641010.
Title – For example, DQ Project Invoice
URL – I suggest copying the original URL , pasting it on your new row and editing the rpx to be what you named your new form. In my example this is PM641000DQ.rpx
Workspaces – can be the same as the original form or different.
Category – can be the same as the original form or different.
(these screen shots use Acumatica 2019R2)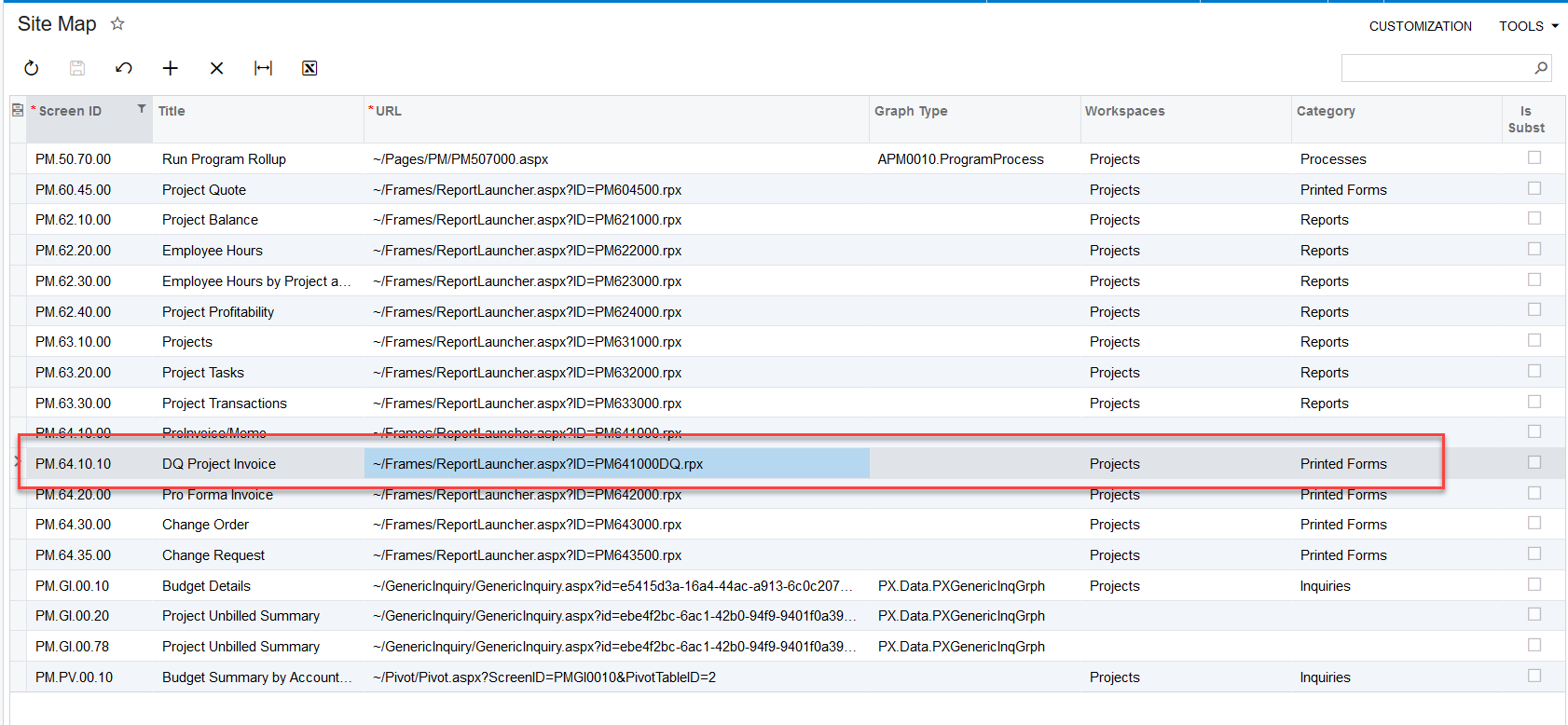 That is it. It is now available from your project workspace!
Now tell Acumatica to use your custom Project Invoice Form as the default form.
In my example, I have edited the Project Invoice form so I want to change the Project Preference Mailing Settings for Invoice: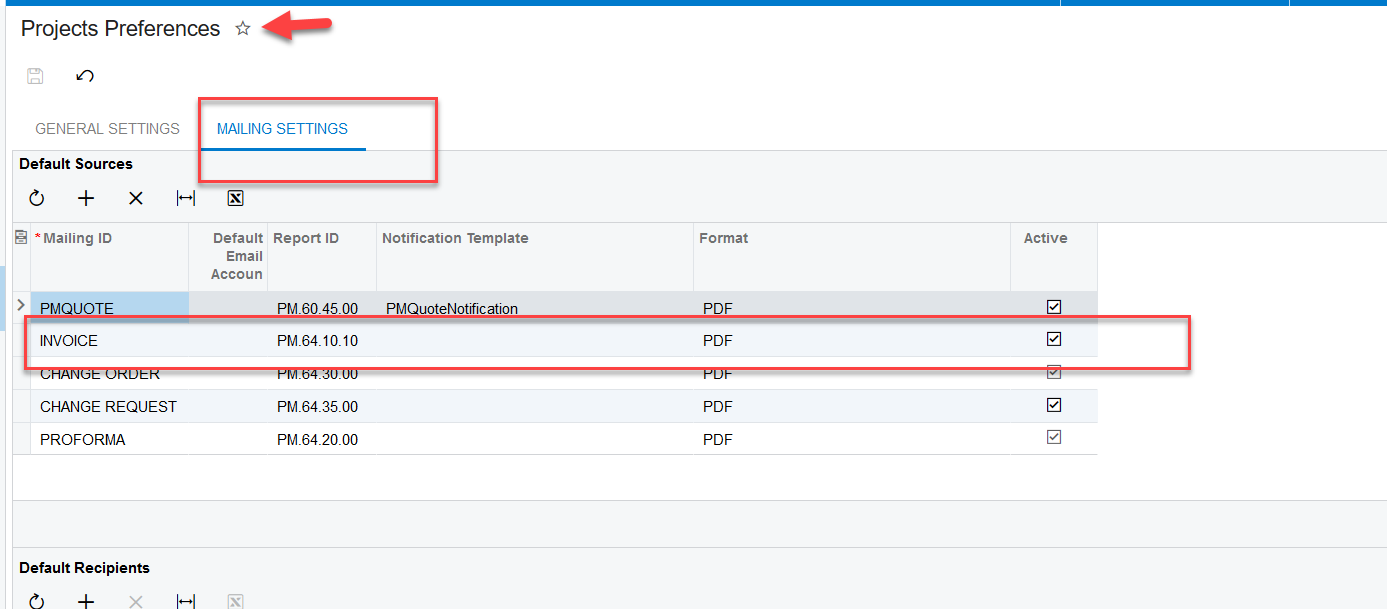 If I already have projects that I want to use this new invoice form when I print invoices, I must go to the PROJECT mail settings and change the invoice form: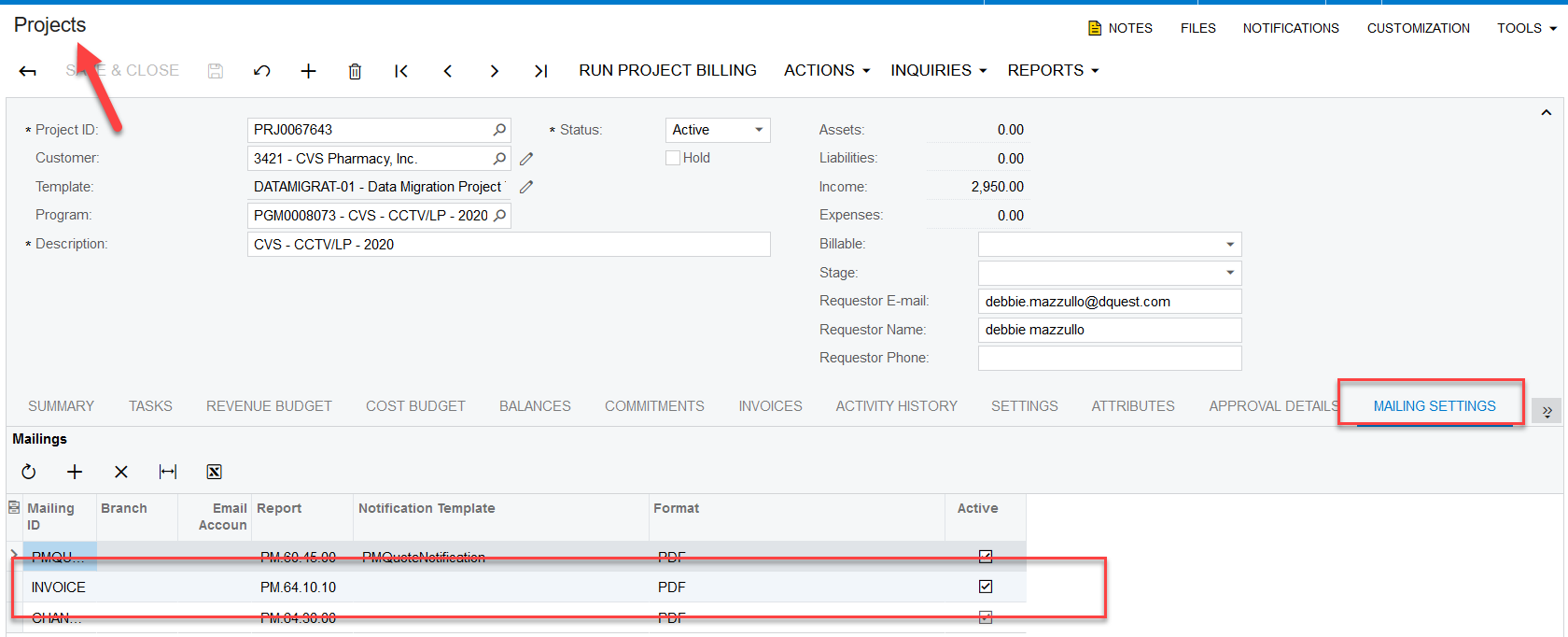 Now you're ready to go with your new  Custom Project Invoice Form in Acumatica!
Want to do it yourself? Give us a call.