Sending Emails With Acumatica
---
Here's how to Start Sending Emails with Acumatica
When you're in the late stages of configuring your Acumatica instance (after you've defined your GL accounts, set up numbering schemes, and done the major heavy lifting that allows you to use the system in a way that meets your needs) you'll probably be ready to have the conversation about sending emails with Acumatica.
You may simply want to send Invoices to customers.  Or use the functionality to hit 'send' and share a report you've generated from Acumatica. Or you may want to go further, linking your Acumatica instance to your team's e-mail accounts. That allows people to add contacts, add email activities, create cases and create opportunities from their Outlook. There's even the ability to configure replies to an Acumatica email address to take actions within the Acumatica system.
Our goal here is to help get you started with initial email configuration.
Overview
To send emails from Acumatica, you'll first configure a system email account and set up the email sending settings.
Then there are 3 basic areas of email configuration: Emailing from within Acumatica, Using the Outlook Plugin, and syncing contacts & activities with Office 365/Exchange.
Emailing from within Acumatica: This functionality allows you to navigate to a document or a report in Acumatica, click 'send', and share it with an outside party. It just requires that you have properly configured a System Email Account.
Outlook Plugin: This plugin allows you to manually add an email to Acumatica as an "activity", spawn a case or opportunity from an email, and generally update the system from within Outlook.
Exchange Sync: To sync emails, contacts, calendar events, etc. between Acumatica and Exchange, you'll need to be using Office 365. You'll use Exchange integration to accomplish that.
The Outlook Plugin & Exchange Sync can be installed for the same instance in order to take advantage of all features.
Emailing From Within Acumatica
To set up your Acumatica system to send emails, you'll first need to configure the System Email Account. This is the default email account that is invoked when sending emails from within Acumatica. The System Email Account has "delegated access" to other email inboxes in order to send emails. That means it has the ability to read & write information associated with user email accounts. You'll want this configured in case you'd like to be able to send emails as if they are coming from other user inboxes. For example, the system email account may be "acumatica [at] yourdomain.com" but you may want to send invoices from an email called "invoices [at] yourdomain.com". If you want this functionality, the system email account will need delegated access. Alternatively you can configure "invoices [at] yourdomain.com" as a system email account as well.
We do not recommend configuring system email accounts to use anonymous relay. Instead, use a fully licensed email address. the cost is minimal and there is a noticeable stability improvement in our experience.
Outlook Plugin
The Outlook integration requires a plugin and works with one click to add contacts, emails, and initiate cases & opportunities. There are a few requirements that must be met in order to use the Outlook Plugin:
Your Acumatica instance must be hosted on https
You must have an Office365 or Exchange account to be able to use the Acumatica add-in for Outlook.
The Outlook plugin processes the incoming and outgoing mail in your Outlook mailbox. With this add-in, you can:
View details on lead, contact, and employee records that already exist in Acumatica
Create new leads and contacts from an email
Create opportunities and cases associated with existing contacts.
Add emails to Acumatica
Be aware, however, that as of November 2018, the Outlook plug-in does not have mobile capability.
Exchange Sync
If your company uses Office 365, you can use the Exchange Sync to define an area within your inbox that acts as the central location for synced data. For example, you can name a specific folder within your Inbox that will act as the place that Acumatica "looks" for activities to add to the system.
So instead of defining your Inbox as the folder to sync, it's wise to choose a specific folder (say, "Acumatica") and only sync items in that folder. Otherwise this can result in an entire Inbox of emails being synced.  Be aware that emails are added to the company level, not the individual "contact" level in Acumatica.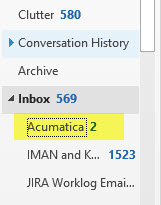 In the same manner as with the Inbox, you may also choose to create a new "Acumatica" folder within your Contacts to which you will sync Acumatica contacts.
This chart compares the Outlook plug-in with the Exchange Sync:

When All Else Fails
There are instructions within the Acumatica product itself that you can refer to during the setup. To access those instructions, you can use the Acumatica Universal Search.  Just key in "Email" and tab to the "Help Articles" highlighted here: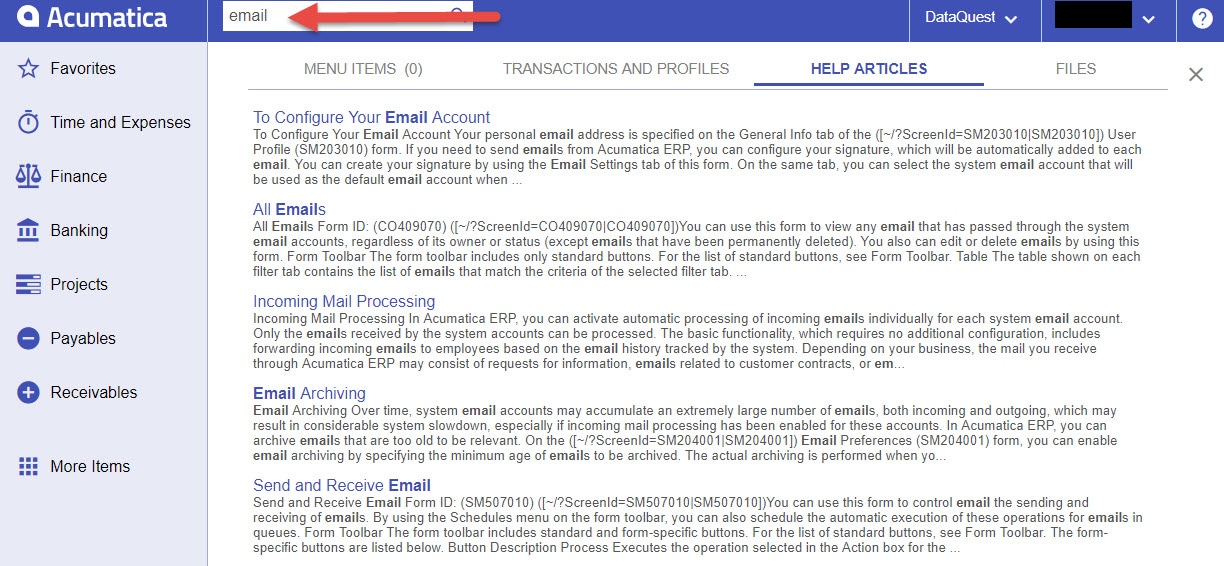 Let us know how we can help!