A Simple Acumatica Budget Upload
---
Here's how to do a simple Acumatica budget upload- with a downloadable budget template by period.
Steps to Create a Simple Acumatica Budget
1. Create a budget ledger. Screen GL2015PL allows you to create ledgers as needed. For example, budget, actual, reporting, or statistical. Here's an example of the budget ledger: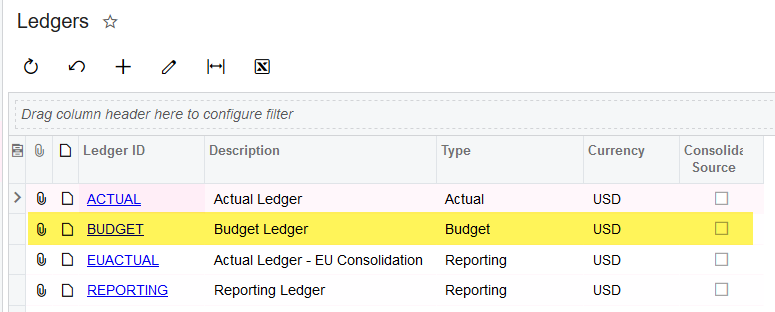 2. Create an Excel upload file – this downloadable template is an example to work from.  Sample file for Budget upload
Make sure that the first worksheet in the workbook contains the data you want to upload
The file type should be .xlsx
A best practice is to change the column heading highlighted in yellow to match the Acumatica fields – this makes it easier to match up fields to headers when you do the upload.
Add a column called "Amount" for each fiscal period.
Be sure there are no formulas in your data.
3. The highlighted fields are the only ones that are required in the upload file.
4. Note that revenues should not be negative numbers. Since they are type "Income" they will be recognized as such.
5. Go to Finance-> Budgets (GL302010)Fill in the Branch, Ledger and Financial year for the Budget you are importing.
Now click the upload files arrow: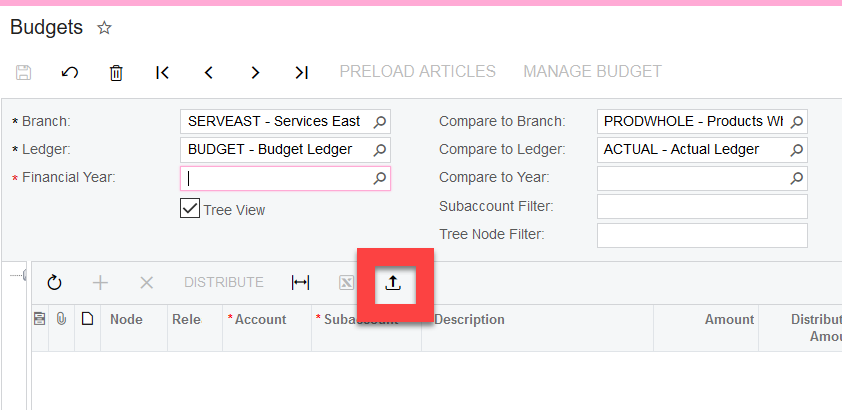 6. Confirm the file mappings (they should look like this)
7. Click OK and Save.
8. Go to Release Budgets (GL505510)
9. Release all, or select account/subaccounts to release.
Want any more help with an Acumatica Budget Upload? Let us know how we can help.