Switching to Sage 300c
---
Should you switch your perpetual Sage 300 ERP license to Sage 300c?
More than 80% of DataQuest customers have switched their Sage 300 ERP licensing from Sage 300 perpetual (paying an annual fee for software & maintenance) to Sage 300c subscription (paid regularly like a subscription).   We want to share background on what Sage 300c offers as well as why you might consider making the change.
What is Sage 300c?
Sage 300c is an enhanced version of your current Sage 300 product. It is still installed on-premises and your user experience can be the same – if that is your preference.
However, Sage 300c does includes several enhancements to the core product that we find compelling. For example, Sage 300c offers additional web screens that allow you to view some of your Sage 300 data on your mobile device. The mobile enhancements are something we've been wanting for some time, and we think they look sharp!
Inquiry screens, dashboard widgets and Key Performance Indicators have an updated look and feel. The dashboard can hold 6 widgets to give you a visual snapshot of where your business is at the moment, whether that has to do with top performing salespeople, comparing this year to last year's data, or evaluating the performance of inventory items.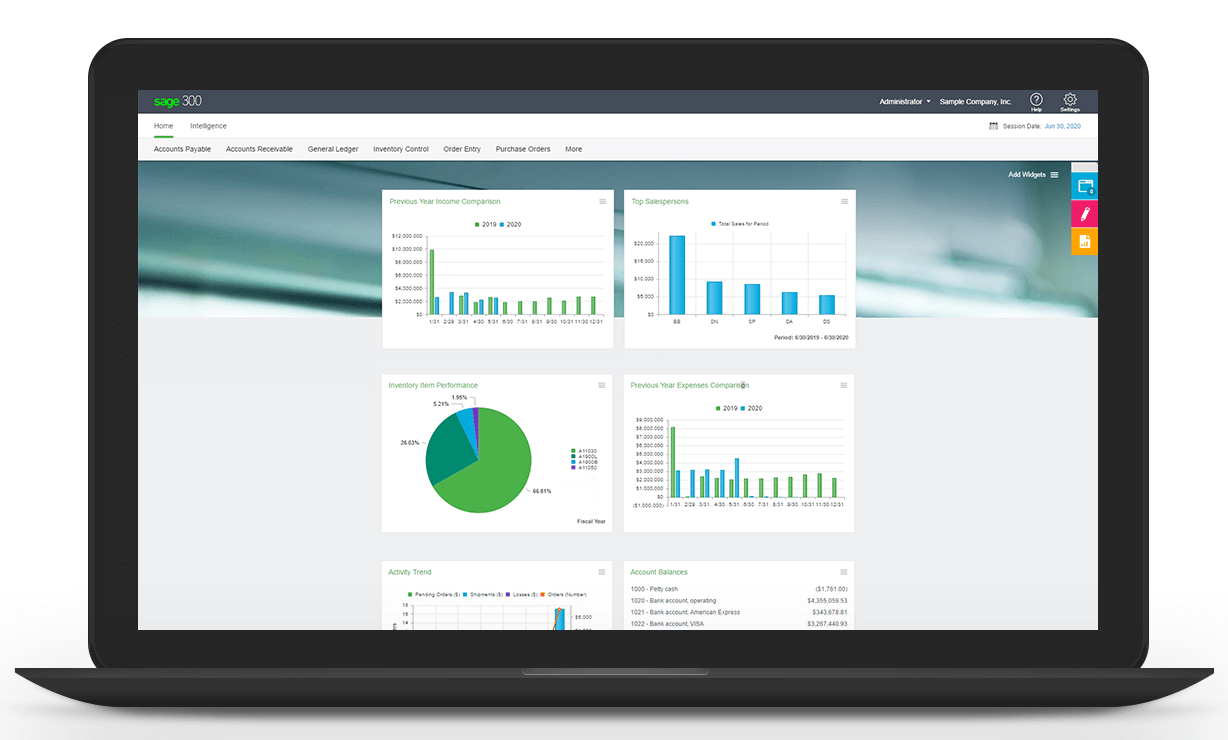 The web screens have an updated user interface that is built on more current technology.  They are visually appealing in addition to being mobile-friendly. These web screens can be accessed with some additional security configuration that DataQuest can handle.
Sage 300c also offers access to Sage 300 business cloud offerings, some of which are available for free.
For example, a "light" version of Sage Inventory Advisor, Sage Inventory Advisor Basics, is available. So if your business uses the Inventory Control module and is interested in additional insights provided by Sage Inventory Advisor, you'll want to explore this. With Sage Inventory Advisor Basics, you can keep your inventory at the optimum level by using purchase recommendations based on inventory forecasts.  This is one of our favorite tools for having better overall analytics about what to buy and when to buy it.
Sage 300c also provides access to additional tools for implementing AP automation processes; access to Sage eCommerce software, and Sage budgeting and planning tools.
Why is it called Sage 300c?
The "c" stands for many things: connected, customer-centric, and convenient.  While "c" may seem like it should indicate "cloud", Sage 300c is not a true cloud product- it is considered a hybrid cloud product. This means that businesses experience the benefits of cloud, including access to Sage 300c web screens via any device with an internet connection, while still having the software hosted on-premises.
Should We Switch?
To summarize the benefits, Sage 300c includes:
New web screens, making Sage 300 data available on mobile devices
Customized widgets on your Sage 300c dashboard with relevant KPIs
New Sage Inventory Advisor Basics
Access to Sage AP Automation Resources
There are several additional reasons that most DataQuest customers are switching.
A key feature of Sage 300c is that the subscription pricing is more attractive than the perpetual pricing, so there is a cost advantage. In this case all Sage 300c (new and existing) customers receive price protection, limiting renewal increases to 10% on future renewals. For details on the price protection, refer to the End User Licensing Agreement (EULA) which states the annual limit in section 13. (This EULA is valid as of Dec 10, 2018).
For a limited time in December 2018, there is a Sage promotion that waives all fees associated with switching to Sage 300c. This will be the last chance to take advantage of this promotion before standard pricing goes into effect.
The promotion includes a cap of 10% for annual subscription increases while perpetual licensing and business care is expected to increase by 20% annually.
Learn more in the Sage300c brochure.
We will be happy to work with you on this decision and assist you in making the change!