Using Acumatica Report Designer
---
Acumatica Report Designer
The Acumatica Report Designer is an essential part of your tool set for modifying reports and building new ones. The Report Designer is commonly used for business forms like Invoices, Credit Notes, and Statements. You may use Report Designer for almost anything. The Report Designer is more widely used than the embedded Analytical Report Manager (ARM), which is leveraged primarily for financials.
Here we'll show you how to gain access to the Report Designer software, connnect to your Acumatica instance, and get started with creating and modifying reports.
Download Report Designer
First, you must determine your Acumatica instance's version and build number. To determine this, from any screen, find the Tools Menu and choose "About":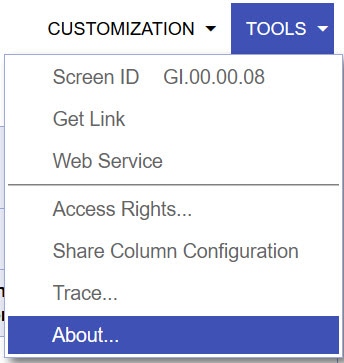 Now that you have that information, navigate to Acumatica's builds site. For this example, let's assume you're using Acumatica 2019R1, Build 19.110.0013. The build is what you'll use to ensure you're downloading the right version of Acumatica Report Designer. Don't choose "2019R1" in the list, even though it's tempting. Instead, choose 19.1: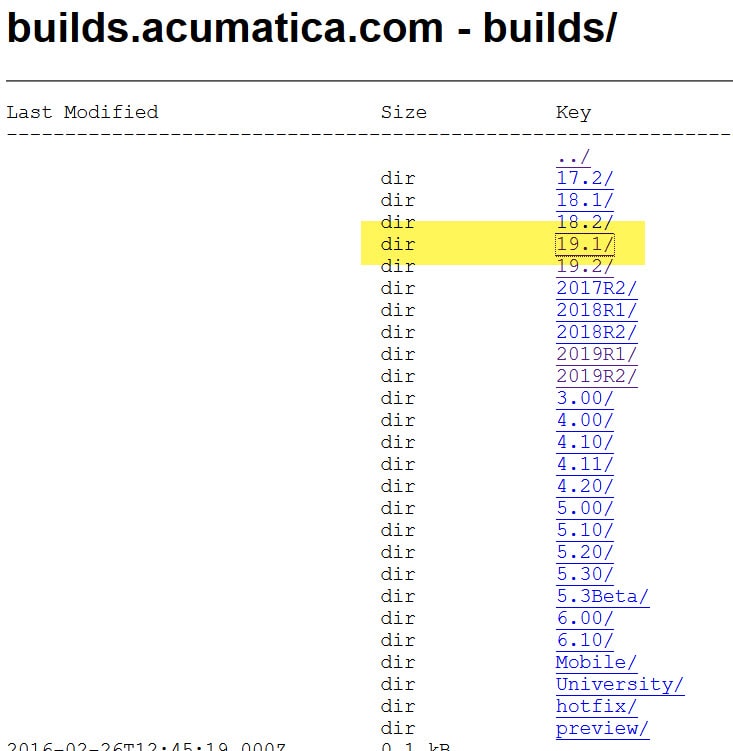 From here, choose 19.1 > 19.110.0013 (our example build)  > AcumaticaERP > AcumaticaERPInstall.msi and that will initiate the software download. This is the same process you would follow if you wanted to install a local copy of Acumatica on your machine. But that is not our mission. As part of the installation wizard, you will be prompted to select what elements to install. Choose "Report Designer." Follow the prompts and install Report Designer locally.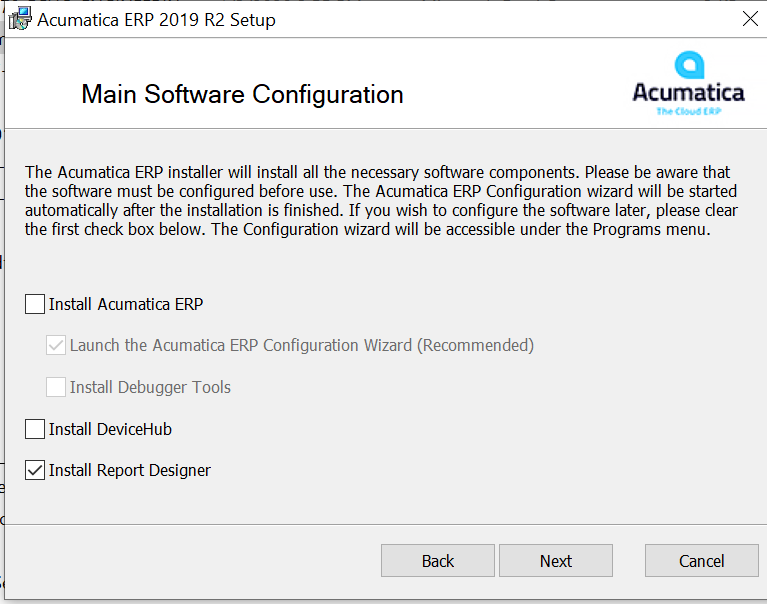 Now you have the first element in place.
Modifying an Existing Report
In our example, we will modify an existing report: the Invoice from.
Open Report Designer, and gain access to the reports stored on the cloud server using File>Open from Server. Enter your Acumatica URL and login. If you have separate companies in your Acumatica instance, you use "Login@Company" format, including spaces.
So If your Acumatica company is "Spoke and Hub" and your login is "Geraldine@sh.com", your login is:
Login: Geraldine@sh.com@Spoke and Hub
Web Service URL: https://spokeandhub.acumatica.com/
Now hit 'load reports list' to find your report.
Load The Report
Now you need to know which  report to load. There is no central list identifying the Report IDs of the Acumatica Reports. However, there are several ways to access this information.
For example, to find the Report ID of the customer statement:
Open a customer, Select Reports / Customer Statement
On the Report display click the pencil and then on the report window select "Edit Report"
This will open the Report Designer for this report
Another way to find the Report ID, for example, of the Invoice form:
Navigate to Invoices/Memos (ScreenId=AR3010PL)
View an Invoice
From the Reports menu, click "Print Invoice/Memo"
In the URL you can see the Screen ID which corresponds to the Report ID of the Invoice: AR641000.rptx

Load the correct report based on the Report ID.
Your first step should always be to back up the Report. With "File>Save" you can save local copies of the report, which is useful. However, you should always be saving your iterations as new versions with File>Save to Server.
Start by saving the existing version to the server. Add a decent description.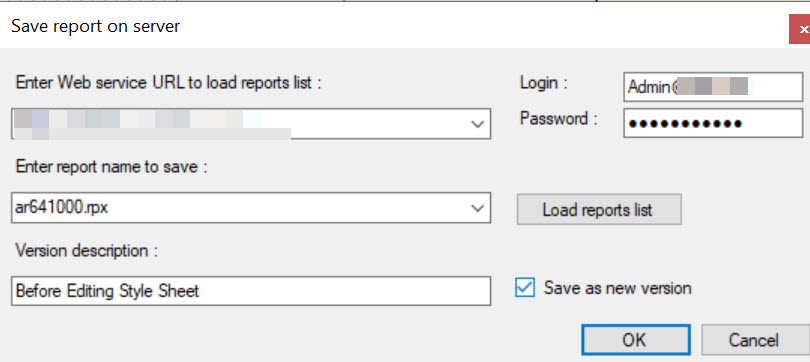 From here, you are free to edit the report. You may add new fields, change the style sheet and update the language on the form. If you've worked with other report designers, like Crystal Reports, in the past, this will feel familiar.
For Acumatica Report Designer best practices, it's a good idea to review the "Report Designer Recommendations" in the Help Files.
There are some challenges, though. When you want to add a new field, it can take some hunting. We have often added multiple "possible" fields to the report, then previewed the results, to confirm the correct field.
The tables and columns are mostly named well. Still, expect to have some blind spots as you learn the schema. Acumatica has recently included a Data Access Class (DAC) schema browser within the help files. But if you also want to see a data dictionary with table and column definitions, please help and upvote this request to make report building easier for everyone.
We will create a separate post on handling report styling, as it's done in a way that can be a major time-saver.
Moving your Report from a Test company to the Live Acumatica company
We recommend making initial changes in an Acumatica test company, then moving the final version to the live company. Here are the steps we ask our clients to follow when moving reports from test to live:
Open Report Designer
Open Reports List from Test company
Open business form from Test
File>Save to Server
Change the server to be the Live company
Here, if you click preview, it might not "look" right. You may have to change the style template eg templateform.rptx. (blog forthcoming)
Change the style template manually
Save to server as a new version
To see previous versions, use: "Edit Report" > Report Versions.
You can revert to a prior version at any point, or remove an earlier version. If you highlight one you can edit that version. Or you can check the active box on a version, then click Edit Report at the top and that will also edit the checked version.
If you make a new report from scratch, and save it to the server, you won't be able to open it until you add it to the site map.
Create a new Report with Acumatica Report Designer
To make a brand new report and make it available through the Acumatica instance, you will need to build it,then add it to the site map. Here's an example, adding an AP Aged Past Due Report to the site map:
Make a new site map location by navigating to the Site Map form (ScreenId=SM200520)
Click + and assign a ScreenID, Title, URL (this you may copy/paste from another URL and just change the name at the end), Workspace, and Category.
Once you've done this, the site map listing is there, but there's no report to run, so it will throw an error.
Now open the AP Aged Past Due report in Report Designer, make your changes, and then click File > Save to Server:
Give it a version description, change the report name to the one you've set on the site map (AP20200121.rpx in our example) and click the check box to save as new version.
Now when you go to the screen where you've saved this report it should run.
Gotchas with Acumatica Report Designer
Security: Even if you are a system admin you must assign yourself the report designer Security Role.
Proxy issues: If you've configured your user account correctly and still cannot load the reports list, you may have a proxy issue that is preventing Report Designer from accessing your cloud Acumatica instance
Enjoy, and let us know if we can help!