Reporting Tools
Power BI by Microsoft
Power BI uses a cloud-based service to publish beautiful dashboards and reports. Our clients are drawn to Power BI for several reasons:
The data visualizations are flat-out beautiful.
Sales and executive staff love the mobility. Just download the Power BI app, and you're done.
The price point is accessible. Power BI desktop is free, and Power BI Pro is available for a monthly per-user fee.
Due to the way Power BI is structured, it is effectively platform-agnostic. Choosing Power BI means you can pull data from many different systems, including Sage 300, Sage CRM, Acumatica, and more.
Power BI can help drive a data culture in your organization and help you leverage current technology. We've seen a surge in interest for better reporting tools and have been very pleased with the capabilities of Power BI.  One example of the technology that our customers like is called "Quick Insights". These are powerful built-in algorithms that find trends and outliers from your dataset. You can also use "natural language query" to type in a question about your data and get immediate results.
Microsoft is continually developing more functionality for Power BI and we are recommending it as a primary reporting tool. Here's a sample dashboard.
Info Explorer by Orchid Systems
The Info Explorer Cube is one of our most-used reporting tools for Sage 300 ERP. Clients use this  dynamic cube tool to see many versions of a single report by dragging and dropping dimensions.  A cube is dynamic and interactive… not a flat, 2-dimensional report.
A cube can show information on a real-time basis. This allow you to analyze customer history, evaluate year to date margins, and prepare for future needs. This sample cube shows fields as dynamic buttons that you can drag and drop to see the data however it suits you. And our customers really like it:
Mark, just a quick note to say that the item valuation cube is AWESOME! It will help us a lot to have better control of inventory…now that we have a fast-running solution that allows us to back-date an item valuation for audit reporting. Thank you.  Sean Missey, PortionPac Chemical Corporation

See for yourself as Robert Lavery of Robert Lavery & Associates demonstrates the power of the cube, starting at 12:51:
You can review our customer case study on Info Explorer cubes here, and find even more on our blog.
---
Sage Intelligence
Sage Intelligence is one of the reporting tools embedded within your Sage product. Sage Intelligence helps surface the right data to improve business decisions. The nice thing about Sage Intelligence is its ability to connect to multiple data sources including Sage CRM and Sage 300 ERP, and present that data to operations, financial and executive audiences in an Excel workbook.
Working directly with Sage Intelligence is especially attractive to people with accounting and financial roles who have already developed strong Excel skills and feel comfortable manipulating data in Excel. But even if you don't have experience with pivot tables and other advanced Excel functionality, you can easily run and view reports to show you what you need to see.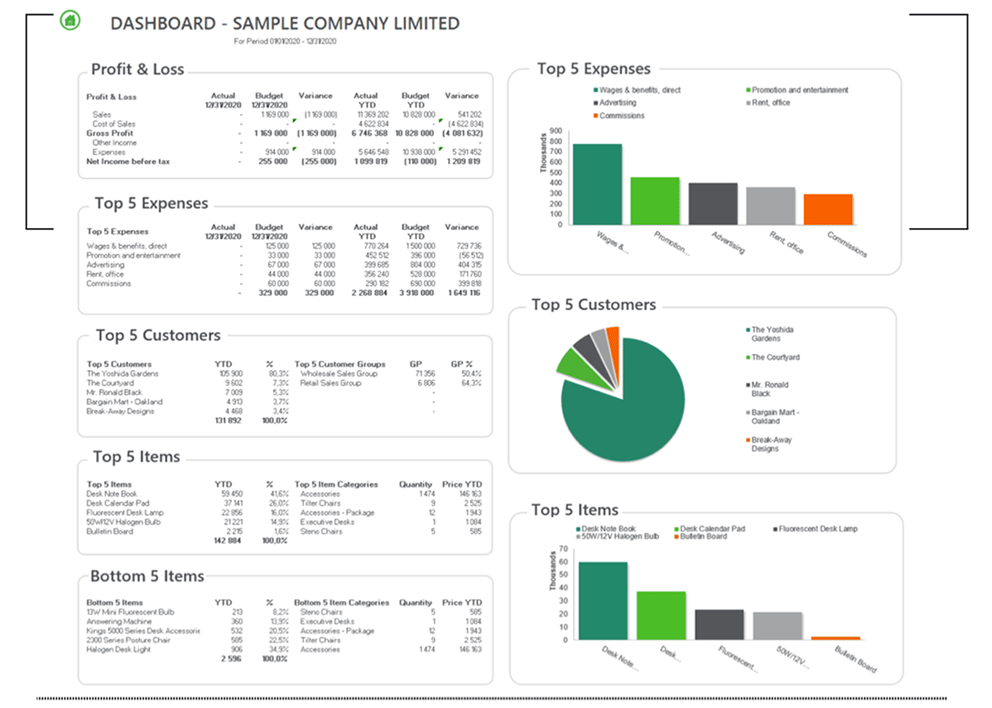 ---
Crystal Manager by CRMTogether
Crystal Manager allows you to access your enterprise data from within Sage CRM using a Crystal Reports Integration. With Crystal Manager, reports can be exported as Excel or PDF files which can be emailed and stored locally. The system also tracks and keeps a copy of the PDF for audit purposes.
The one-click reports feature allows users to access reports from within CRM entities (including custom entities) without prompting for user input. As an example, Crystal Manager has been very helpful for generating reports within the context of a Sage CRM Workflow.
---
Custom Reporting Solutions
We also support incredibly cool custom reporting tools that allow users to access the actual invoices and documentation behind purchases. Custom reporting solutions can be built using SQL Server Reporting Services and harness the document management capabilities of SharePoint and Orchid Systems' Document Management Link software.
Check out our blog post on this topic for more information, or watch the 10-minute video on the solution right here:
---
Crystal Reports
There is a lot DataQuest can do for you with Crystal Reports that you might not expect.
For example, it's possible to view inter-entity data if you have more than one company's data in Sage 300 ERP. Let's say you wanted to track sales and expense activity specific to one entity, even if customers/vendors owned by the other entity could still interact with the original entity's inventory/expenses. Crystal Reports can easily identify all the ordering activity where this is the case, surfacing complex data however you need it.
---
Sales Analysis within Sage 300 ERP
Sales Analysis reports are often the most viewed. DataQuest can show you AR Aging reports,  rebates, product sales by date, back orders, and view the information by almost any variable- salesperson, item category, location/AR account, whatever is required.
---

---
Automatic Report Delivery
Process Scheduler by Orchid Systems
This nifty scheduler is a module within Sage 300 ERP can deliver cubes and other business intelligence metrics via email to local and remote users on your team. This can be done on any schedule.
When users open a cube for example, even though they are getting up-to-date data, they do it without taxing the SQL Server. This allows remote salespeople to open a cube right when they receive it, without affecting the day to day performance of the system.
A sample email could look like this:

---
Sage Alerts and Workflow by Vineyardsoft
Sage Alerts & Workflow is a server-based business activity monitoring service. The idea is to allow you to manage by exception, and automate where possible. For example, you can deliver automated alerts to the right people about any business conditions, such as overdue invoices, critical support issues, or contracts about to expire.
Think about these scenarios:
Scenario #1: Auto-Send Client Invoices & Statements
Is the process whereby you generate and deliver invoices (order confirmations) and statements to your customers a manual one, either in its entirety or in part?
Sage Alerts & Workflow automation saves an average of 2 minutes per invoice.
Scenario #2: Stock Level Monitoring & PO Auto-Generation
Are you ever unaware of stock at – or near – re-order level? Do you manually generate and send purchase orders to suppliers?
Sage Alerts & Workflow automation saves an average of 3 minutes per PO.
Scenario #3: Catch & Correct Slowing Sales
By the time you notice that customers have changed their buying habits (or stopped buying), is it too late to recover that business?
Sage Alerts & Workflow automation saves an average of .5% sales per year
These are many reasons why we recommend Sage Alerts & Workflow. We can schedule notices and reports to auto-distribute based on any recurring schedule. Even non-licensed users can benefit by sending an email to the Sage Alerts & Workflow account, triggering an auto-reply with Sage 300 ERP data in a report attachment! See our "Managing by Exception" blog post for more examples.
*scenarios courtesy of VineyardSoft