In anticipation of Sage Summit 2016 being in our home court of Chicago, we want to extend an extra special invite to to you to come and enjoy our City. This is our list of must-see and must-do activities. Be sure to extend a day or two and enjoy the "City in a Garden."
First- sign up for Sage Summit with code DQUEST
Through May 15, 2016, registration is only $99 with code DQUEST. Get that squared away and learn more about the conference here.
Sage Summit is billed as the largest gathering of small and medium sized businesses in the world.
This year's speakers include Sir Richard Branson, Gwyneth Paltrow, Zooey Deschanel, Ashton Kutcher, "Shark Tank" sharks Robert Herjavec and Daymond John, and Kickstarter CEO Yancey Strickler with stories of startup success, serial entrepreneurship, and socially conscious business practices.
Hotel
Yes, you can stay at the conference hotel, which is very convenient. But you should also consider this nearby baller perch:
Chicago Athletic Association: Chicago's celebrated 1890s athletic club is reborn as a bustling Michigan Avenue hotel playground, featuring some of Chicago's finest restaurant and nightlife talents. More than a restoration, it's a revelation of historic architectural detail, from the grand marble staircases to the incomparable Cindy's rooftop terrace, restaurant and bar, with commanding views across Millennium Park, the Art Institute of Chicago and Lake Michigan. The game room is a great place for bocce, checkers, shuffleboard and more.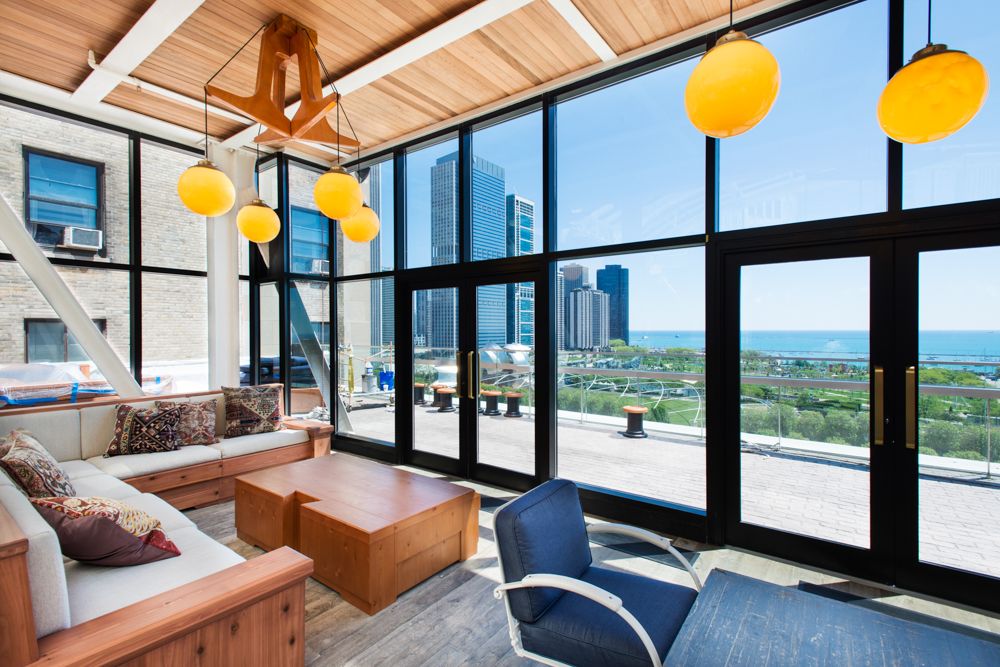 Image from Curbed Chicago's writeup of the hotel.
There's also a handy Google Map of the conference hotel venues. Of these, the Palmer House Hilton gets our vote.
In terms of getting from the airport to your hotel, a classic Chicago way to do that is to take the El Train (Elevated train). You'll get a little free tour of some of the outlying neighborhoods and avoid all the soul-crushing highway traffic. From O'Hare, you'll take the Blue Line downtown and from Midway, take the Orange line. Just follow signs to "CTA". The CTA has a nice little "How To" Guide right here. Both O'Hare and Midway are the terminus so you don't have to worry about taking the train the wrong way. Google transit is the best way to figure out the station closest to your hotel.
Reading to do
The best local sources of news and activities are:
DNA Info (especially for award-winning writing)
Curbed Chicago (especially for neighborhood news)
Chicago Reader (especially for nightlife & entertainment)
Chicago Inno (for local tech news)
Arline can also give you ideas and will be tweeting all about it at @DataQuestHello.
Activities
Architecture Tour
The architecture tours of the city given by the Chicago Architecture Foundation are the best because the docents are highly trained architecture nerds. The architectural preservation culture here is strong. Chicago is known as an architecture city and there are dozens of tours to choose from. Some favorites include "Historic Skyscrapers", "Art Deco Downtown" and of course the iconic "Architecture River Cruise", which is a beautiful way to see the skyscrapers from a lower vantage point! You'll learn a lot. None of the competing riverboat tours will give you the cultural context and architectural history as well as those from the Chicago Architecture Foundation.
Theater
Chicago is also an easy city for plays, improv and sketch at comfortable storefront theaters. One of our favorite plays will be showing during the Sage Summit. Consider extending, or sneaking off to see the extremely talented House Theater of Chicago perform "Death and Harry Houdini" at the Chopin Theater. Tickets are $45-$60. The Book of Mormon will also be playing at Broadway in Chicago at that time and tickets are on sale now.
Arts and Culture
By all means, spend some time in the Renzo Piano designed Modern Wing at the Art Institute of Chicago and wander out through Millennium Park and the Lurie Gardens, which are beautiful year-round.
Or take off – it's the 30th anniversary of Ferris Bueller's Day Off. Many Chicago businesses are putting together fun packages, screenings and activities. For example, the Hubby's Dog House Sausage cart will also participate in the Ferris frenzy by renaming itself after Abe Froman, the Sausage King of Chicago, and slinging Froman brats outside of the Willis Tower during lunch hours every other Friday beginning Friday, May 20 and ending on Friday, August 26th. (courtesy Curbed Chicago)
Jazz and Gimlets
Chicago is home to the oldest continuously run Jazz club in the United States, the Green Mill. The Sunday night poetry slam is surprisingly good, and the live organ music starts behind the bar at 5pm on Friday nights before the shows. The interior hasn't changed much since Prohibition. Jazz shows are most every night and they certainly know how to mix a proper gimlet.
Get some Exercise along Lake Michigan
Lace up your sneakers or rent a cute blue Divvy bike and get some exercise on Chicago's beautiful Lakefront Trail. The Lakefront Trail is still forever open, free and clear, as Daniel Burnham envisioned it in his 1909 Plan of Chicago.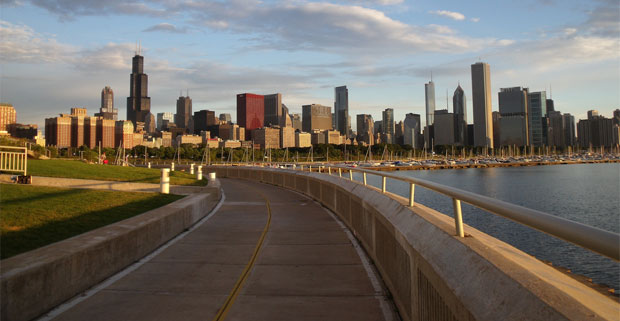 Or check out the New York Times' 36 Hours in Chicago for ideas further afield from the conference venue.
Restaurants
One of America's most innovative dining cities, Chicago boasts over 40 James Beard Foundation Award winners, including four Outstanding Chef recipients. Check out the list of winners here.
Very close to McCormick Place, there is an interesting walkable area called Motor Row. Motor Row is on Michigan Avenue between 2200 and 2500 South and is experiencing a revitalization from an automobile shopping area from the early 1900s to a music and entertainment district today with many of the original buildings being preserved and repurposed. Motor Row Brewing ("craft beer from the city that works") is worth a visit.
Arline's top choices include Publican for beer, seafood and pork, and Big Star for a rowdy outdoor experience with exquisite tacos and a pleasantly aggressive whiskey & tequila list.
Can't wait to see you at Sage Summit 2016!
---